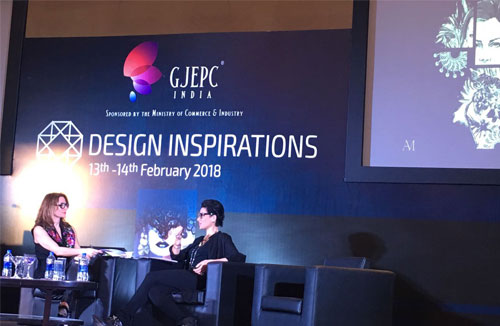 The two-day Design Inspirations seminar organised by The Gem & Jewellery Export Promotion Council (GJEPC), opened this morning at the Taj Santacruz with a number of interesting presentations on designing, branding and evolving consumer attitudes. Proceedings began with the lighting of the lamp by Colin Shah, Vice Chairman, GJEPC, Nirupa Bhatt, MD, GIA India & Middle East and Ruchita Sharma, ED-Marketing, GJEPC.
Introducing the seminar and its associated themes, Colin Shah that the two-day event was focused on various aspects of the design process — "from concept to creation". He elaborated on the four key aspects in this process – creative-design, merchandising, technology and branding / brand building. He emphasised that it was important to integrate these processes with the latest digital platforms.
Shah said that there is huge potential to increase exports and employment by creating jewellery for the local populations of various global markets, by adapting latest trends to their particular tastes. Elaborating on the benefits of the seminar, Shah explained that GJEPC aims to make India a design destination, where every factory designs its own products, and every designer is able to create not only for the Indian market, but for international design houses too.
The next presentation, on understanding the consumer of the future, was by Neelesh Hundekari of A.T. Kearney. He pointed out that India has the highest percentage of GDP spending on jewellery at 1.6 per cent, compared to China and HK's 0.5; USA and Canada's 0.2; and Japan also at 0.2.
Stressing that consumers today are different, Hundekari said that they demand trust and values from every brand, are influenced more by immediate family and friends and informal trustworthy influencers like bloggers rather than celebrity endorsements, and demand a fair degree of personalization too. Just as they are conscious about the environment and are changing their attitudes and behaviour patterns, so too they expect the brands to change. Young consumers, therefore, expect corporations to change their behaviour as well, and often favour brands that do good and are trustworthy, even being willing to pay more for environmentally friendly and socially conscious brands.
The session that followed featured Abhishek Rastogi, Head of Design at Tanishq, who outlined the company's experiences and approach while designing jewellery for the recent Bollywood blockbuster Padmavat. He recalled how Jodha-Akbar jewellery had influenced the trend for bridal when that film was released a few years ago, and said that Padmavat was haing an impact too.
A highlight of the morning was the conversation on the use of new sustainable materials in jewellery design between Alexandra Mor, well known US designer of Israeli origin and jewellery design trend forecasting expert Paola de Luca. The designer spoke about her journey from not knowing anything about jewellery to creating a brand, saying that the diamond engagement ring she got from her future husband who hailed from a diamond cutting background, was her first introduction to jewels. Describing it as a love affair which has endured, she said that not knowing anything was her greatest advantage, as she was able to think out of the box and innovate from the start.
Later Alexandra and her family relocated to Bali, where she has now taken the step of creating Tegua jewellery as an alternative to ivory – being deeply upset by the number of elephants which were killed every year for ivory. Alexandra, a great proponent of alternative material to replace what is not environmentally friendly, said that tegua is a seed and can be created to look like ivory jewellery. She hopes to spread such awareness and innovate further.
The concluding session of the first half of the day was a panel discussion that had Payal Singhal fashion designer of eponymous name; Gauri Tandon who has fashion jewellery brand Isharya: and Siddharth Kasliwal of Gem Palace discussing what characterised their individual brands, and the path each of them had traversed. The disucssion was moderated by Nisha Jhangiani of the Pearl Academy who is a consultant as a personal shopper, stylist, etc.
Pic caption: Alexandra Mor and Paola de Luca in conversation
News Source : gjepc.org