07sep(sep 7)9:00 am15(sep 15)6:07 pmDenver Coliseum Mineral Fossil Gem & Jewelry Show 2019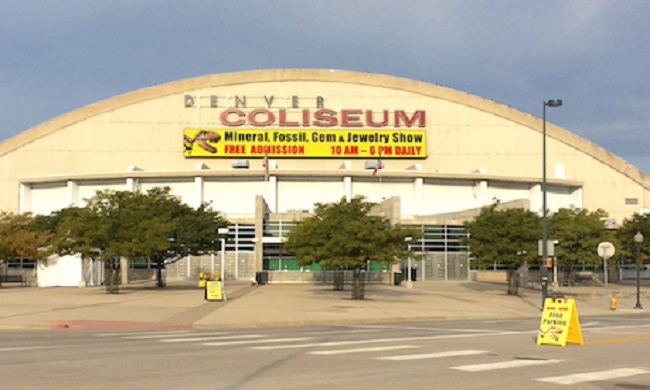 Event Details

"International exhibition for mineral, gems and jewelry industry"
Denver Coliseum Mineral Fossil Gem Show features a display of diamond, pearl, platinum, gold, silver, antique jewelry, pearls, gemstones like ruby, sapphire, opal, emerald, crystal, equipment & accessories of jewelry making, and much more.
Time

7 (Saturday) 9:00 am - 15 (Sunday) 6:07 pm
Location

Denver Coliseum, Denver, USA
Organizer
Eons Expositions LLC 7514, Antelope Meadow Circle, Peyton – 80831 (United States)
Fair Info
Event Profile
Denver Coliseum Mineral Fossil Gem & Jewelry Show 2019 is an international trade fair. Denver Coliseum Mineral Fossil Gem & Jewelry Show 2019 to be held on 07-15 Sept 2019. The 2019 Denver Coliseum Show will be 20% larger than last year. Again both levels of the Coliseum will be 100% filled, thus allowing us to open both stairways between the two levels. Whether by display area or customer count, the Denver Coliseum Show is the largest mineral & fossil show in the USA.
Exhibitor Product profile
Profile of exhibit are Minerals, fossils, crystals, miners rough, gems, jewelery, gold, beads, diamonds, ruby, pearl, jewelery accessories, jewelery making tools, jewelery making equipment, jewelery making services, Gold Pendant, Pearl Stone, Pearl Brooch, Ruby Beads, Antique Silver, Diamond Beads, Jewel Bearings, Beaded Earring, Bead Embroidery, Crystal Beads, Gemstone, Beaded Bangles, Beads Bracelet, Gemstone Necklaces and Crystal Jewelry Set.
Visitor Profile
Visitors like General public, wholesale buyers, beginning to advanced collectors, scholars, researchers, scientists, journalists, teachers, students are the target visitors on this show.