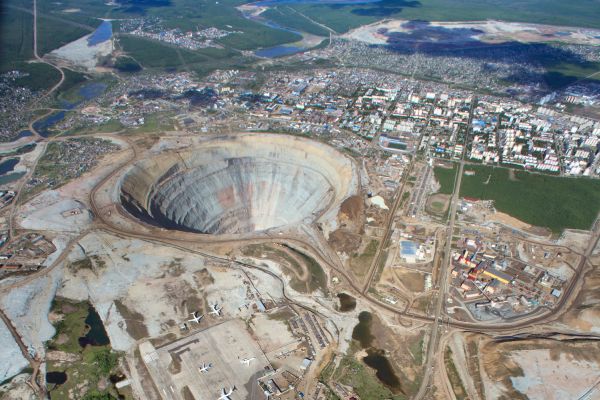 Alrosa is considering its options for the Mir mine, where operations were suspended in August due to a flood that claimed eight lives. The company has engaged with independent auditors to investigate the cause of the accident before it embarks on a reconstruction program, a spokesperson told TheJewelryMagazine News.
"No decisions on the reconstruction will be made until we get a complete understanding of what happened and how to prevent [such accidents] in the future," the spokesperson said. "At the moment it is impossible to announce any concrete terms of the reconstruction."
The spokesperson dismissed recent reports in the Russian media claiming that reconstruction had already begun. She stressed that mining and geological conditions at the mine make it a very difficult project "which would take a few years."
Still, suspension of mining at Mir is not expected to impact Alrosa's overall production or sales this year as the shortage caused by the stoppage at Mir will be compensated by increased production at other deposits, the spokesperson said.
The company is in the process of collating its 2018 budget and assessing how it might substitute production from Mir next year. Its sales targets could be helped by dipping into inventory, which currently stands at 14 million carats, the spokesperson added.
Alrosa also expects to start commercial operations at the Verkhne-Munskoe deposit next year, having begun processing ore at the open-pit mine this month. The company has plans to remove 75,000 tons of ore in 2017, and eventually ramp up to 3 million tons once design capacity is reached in 2019.
The mine, which is being developed with a budget of $3.2 billion (RUB 187.5 billion), holds a resource of 38.4 million carats that is expected to last through 2041, the company said. Verkhne-Munskoe is part of Alrosa's Udachny division, one of five mining units operated by the company. The Mir mine is part of the Mirny division.