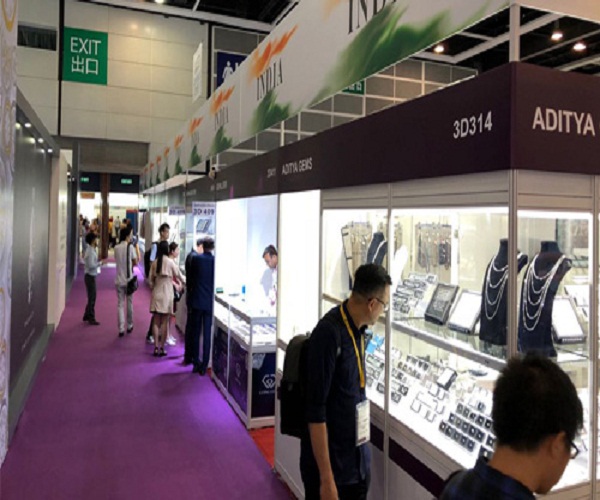 The 42-exhibitor strong India Pavilion, hosted this year by The Gem & Jewellery Export Promotion Council (GJEPC) is one of the highlights of the 18 group pavilions led by countries, regions and trade associations at the June Hong Kong Jewellery & Gem Fair which opened yesterday.
Being held from June 21-24, 2018 at the Hong Kong Convention & Exhibition Centre (HKCEC), the fair this year has 1,998 exhibitors from 38 countries and regions, offering a wide variety of loose diamonds, gemstones and a range of jewellery across categories.
Occupying 70,000 square metres of exhibition space, it is divided into 17 theme pavilions –Antique & Vintage Jewellery; Corals; CORE Pavilion; Designer Arena; Diamonds; Fashion Jewellery; Fei Cui Gallery; Fine Design Pavilion/Fine Gem Pavilion; Fine Jewellery; Gemstones; Jewellery Accessories; Packaging, Tools & Equipment; Jewellery Mountings; Pearls; Silver Jewellery and Stainless Steel Jewellery.
The show has one of the biggest Diamond Pavilions in the B2B space with more than 400 diamond manufacturers and dealers. It also features an impressive Gemstone section with about 450 exhibitors from around the globe.
Indian exhibitors are present in both these locations under the common banner of GJEPC's India Pavilion.
Pramod Agrawal, Chairman, GJEPC said, "Last year, Hong Kong has been the largest export market for the Indian Gem & Jewellery industry. It has always been our effort to give our manufacturers the maximum opportunity to showcase their exquisite jewellery collections to markets in and around Hong Kong through this show. June Hong Kong Jewellery & Gems Fair is rightly placed for mid-year jewellery sourcing in Asia and this time we have 42 gem and jewellery manufacturers participating from India under India Pavilion. The platform will be an opportunity for exhibitors to enhance the existing relationship with buyers and create new ones."
Today, India is renowned across the world as the destination for sourcing quality gems and jewellery. The export of gems& jewellery accounted for US$ 42 billion in 2017. Hong Kong was the leading export destination in 2017 with total exports pegged at US$ 14 billion (33%). Exports of cut and polished diamonds to Hong Kong accounted for US$ 10 billion; gold jewellery accounted for US$ 973.40 million and coloured gemstones accounted for US$ 205.70 million.
Celine Lau, Director of Jewellery Fairs at UBM Asia, the organisers said, "The June Fair has consistently delivered business opportunities to suppliers and buyers – be it in terms of sales leads, product visibility and networking – and this year is no different."
Pic caption: A view of the India Pavilion at the June HK Jewellery & Gem Fair
News Source:- gjepc.org