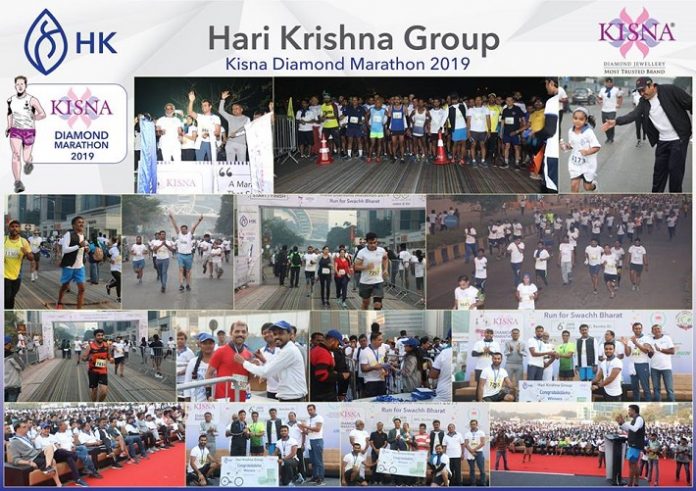 Hari Krishna Exports Pvt Ltd. a leading Indian manufacturer of cut and polished diamonds hosted a marathon on January 6, 2019, at BKC, Bandra (E) to promote the government's 'Swachh Bharat Abhiyan'. This was the 4th edition of the marathon and saw the participation of 5,500 runners. Ajit Pal Nandal, former hockey player of India and Ashish Heliwal Add. Commissioner, Income Tax, flagged off the race.
The chief guests present at the marathon were Kirit Somaiya, Member of Parliament, Lok Sabha, North East Mumbai, Girish Agarwal, Director of Divya Bhaskar Group (D.B. Corp Ltd.)
Funds raised by the event are used to promote the 'Swachh Bharat Abhiyan'. The company has already placed bins and signboards at various places to create awareness.
During the run-up to the event, practice sessions were organised for the runners thrice a week, which also encouraged employees and participants to take up running on a regular basis.
Winners of the marathon received exciting prizes ranging from jewellery pieces to bicycles and sportswear.
Ghanshyam Dholakia, Founder, and Managing Director, Hari Krishna Group, said, "With Kisna Diamond Marathon, we aim to encourage fitness and the noble cause of 'Swachh Bharat Abhiyan' amongst employees and masses. We were delighted to host a marathon where we witnessed massive participation, the spirit and enthusiasm amongst the participants were amazing and with the coming edition in 2020, we aim to target 10,000 runners for the marathon.''
Shri Savji Dholakia, Founder, and Chairman, Hari Krishna Group, said, ''Sports and fitness is a way of life at Hari Krishna Group. It is heartening to know that Kisna Diamond Marathon has been witnessing a growing number of participants each year and this year too, we saw active participation from the citizens of Mumbai.''