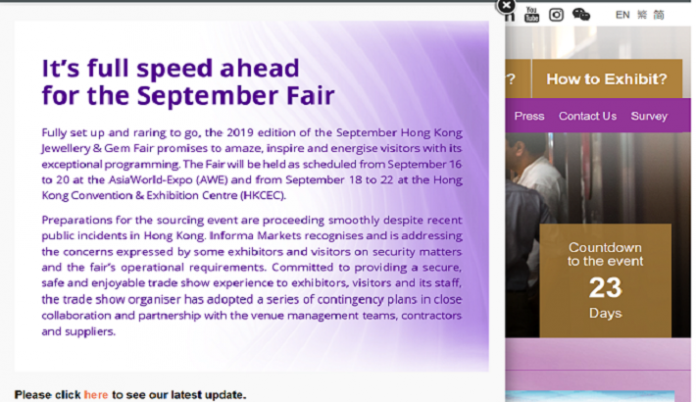 Celine Lau, the veteran manager of the Hong Kong Gem and Jewellery Fairs of June and September, responded to a letter sent earlier on August 21st by the Gem & Jewellery Export Promotion Council (GJEPC), the Antwerp World Diamond Centre (AWDC) and the Israel Diamond Institute (IDI), asking Lau to postpone the show.
In her letter, Lau stated that there are positive signs indicating that the situation is cooling down, and that the show will be held as planned.
"We have not received demands for cancellation as stated in your letter. Instead, what we have been getting are several calls from exhibitors inquiring about the possibility of securing better booth locations in case of any cancellations, and inquiries for participation. Rumors about the fair's alleged cancellation / postponement have in fact drawn more active inquiries on the show's exhibitor profile and contents.," Lau wrote.
She emphasized that with regard to the insurance coverage "for your members' merchandise," show management had obtained "confirmation from Malca-Amit and Brinks that there is NO change in the insurance policy in relation to the public incidents in Hong Kong."
Also, Lau wrote that "special transportation arrangements had bene made for visitors from China; visitors commuting between select hotels and fair venues; and visitors commuting between different destinations. As of today, many delegations have already confirmed their attendance, including groups from Poland, Vietnam, South America, Russia and China, to name a few."
"As of today, the travel alert level on Hong Kong remains comparable with the current alert level assigned to the UK, Europe, China and several other countries. It is very important for all of us to stay focused to make the best out of our investments and keep our business growing especially during this challenging period. Therefore, we are not letting these special circumstances deter us from delivering the best possible September Hong Kong Jewellery & Gem Fair that our exhibitors and visitors deserve," Lau concluded her letter.
The show's website will be keeping exhibitors and visitors apprised of developments.
New Source : idexonline