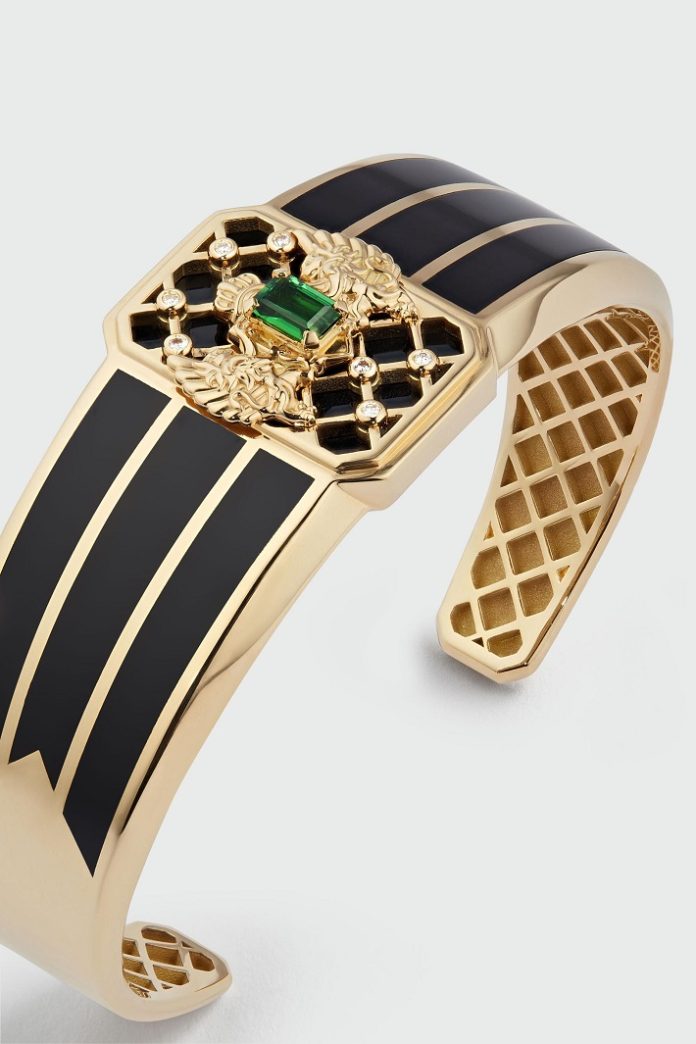 Balmain's distinctively modern-yet-historic personality is echoed in the house's  premiere collections of fine jewelry.  
Powerfully authentic and building upon both the potential of today's rebellious spirit  and the richness of a singular couture heritage, the new jewelry designs channel  Balmain's easily recognized mix of Parisian luxury, sharply tailored silhouettes and  impeccable craftsmanship. 
Designed in Paris and crafted in the finest workshops in France, the design made with  recycled and ethical 18k gold, conflict-free minerals, and traceable gemstones.  Charged with inimitable emotional strength, Balmain Fine Jewelry creations convey the  audacious vision of the house's creative director as well as the strength of character  that sets apart each member of the Balmain Army. 
Each of the twenty pieces of these first gender-neutral collections reference some of  Balmain's most well-known signatures—both classic motifs pulled directly from the  house's rich archives and daring 21st-Century icons first introduced on Olivier  Rousteing's runways.  
"It was important for me that Balmain Fine Jewelry truly reflects the essence of  this house. Ever since Pierre Balmain showed his first collection over 75 years  ago, Balmain presentations have always set themselves apart by their singularly  fresh and bold vision. And we've made it very clear that we are building upon  that unique heritage by having our first jewelry collections riff on a host of items  pulled from our archives, including Monsieur Balmain's legendary Labyrinth  pattern, the house's distinctive coat of arms and the couture-like embellishments  of my Fabergé collection, which I first sent down the runway ten years ago."
Olivier Rousteing 
Emblem and Labyrinth are clear signs of belonging to a greater whole, talismans that  embody both word and bond. Balmain Fine Jewelry's personal-yet-universal designs 
can be easily slipped on by each of the house's recruits, making evident the love, joy,  determination and confidence that come with newfound purpose and self-celebration. 
EMBLEM  
Emblem reflects the infectiously rebellious spirit of those who challenge established  orders. Each of the designs is a recognizable sign of belonging alongside the many  other insiders already inducted into the Balmain universe—signaling a real commitment  to the universal values that this house supports. 
Looking to some of the most important icons of the house, the designs rely on a  brilliant mix of yellow gold, diamonds, onyx and tsavorites to reference the heraldic  language of the Balmain Blazon and the masterful embroideries of one of Olivier  Rousteing's most influential runways, the Fabergé collection of 2012.  
The Fabergé collection, originally inspired by Karl Fabergé's gold-and-jewel-covered  Easter eggs, was the first runway offering that made clear Olivier Rousteing's  determination to build upon both the house's heritage and Parisian savoir-faire, in  order to create his now-familiar sleekly modern and youthful twist on classic couture.  That collection's impressive embellishments have now come full circle, once again  forming the eye-catching focus of singular jewelry designs.  
The Balmain Blazon—the house's distinctive coat of arms—is a favorite and often repeated symbol of Balmain. It forms the basis of powerful graphic treatments for  fashion-week runways, and it is pressed into the six golden buttons adorning the  
house's signature blazers. The crest's design blends together noble medieval  symbols—a crown and lions—to reference both the house's French heritage and the  power and strength of today's Balmain Army. And, just like any coat of arms, the  design forms a quickly recognized symbol of allegiance and membership for all those  who carry it. 
LABYRINTH  
First introduced in 1970 and originally inspired by the intricate mazes that set apart  France's finest Renaissance gardens, Balmain's historic Labyrinth pattern blends the  initials of the house founder into a mesmerizing play on repetitive geometry.  
Fashioned from yellow gold—Balmain's signature color—and set with diamonds, the  Labyrinth collection's ten designs meld together timeless couture precision and the  assertive urban spirit of today's runway, reaching a new rich level of modern luxury,  thanks to the impressive skills of the house's artisans. 
And, just as the finest mazes mix imaginative and skilled constructions with a promise  of liberating adventure, this house puzzle serves as an invitation to explore a marvelous  playground—the Balmain universe—which always reflects the limitless beauty and  intriguing complexity of today's diverse and evolving world. 
About Balmain  
More than 75 years ago, when Pierre Balmain first introduced his "New French Style," it  immediately became clear to all that his eponymous house was offering a distinctly fresh,  bold and feminine conception of haute couture, one which broke with many of the well established conventions of the era. His audaciousness paid off. Pierre Balmain became  one of the handful of young French talents who ushered in the mid-century's golden age  of couture and helped to re-establish Paris as the world's fashion capital.  
For more than ten years, Balmain's Creative Director, Olivier Rousteing, has been  inventively building upon Pierre Balmain's extraordinary legacy, while always remaining  true to his own determination to design clothes that reflect the way his inclusive, powerful  and global Balmain Army wishes to live today. The result is a unique and instantly  recognizable Balmain silhouette, style and attitude that highlights the singular  craftsmanship of the house's celebrated ateliers, while consistently referencing a rich  Parisian heritage.