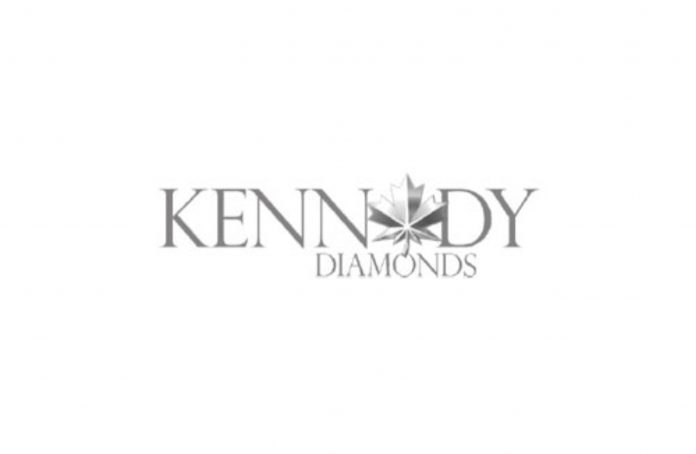 Kennady Diamonds Inc has announced a maiden Mineral Resource estimate of 5.02 million carats for the Faraday kimberlites located at the Kennady North project. The just completed study, based on a 1mm diamond bottom cutoff size, estimates the resource in 3.27 million tonnes of kimberlite, with an overall grade of 1.54 carats per tonne and an average value of US$ 98 per carat.
This is in addition to the earlier estimated 13.62 mn cts of the Kelvin Indicated Resource that is also part of the same project.
The Faraday estimate was prepared with the combined efforts of Aurora Geosciences Ltd., Mineral Services Canada Inc., and SRK Consulting Inc., who were engaged by the Company for this purpose.
Kennady also clarified that the Faraday kimberlites were originally designated as three separate pipes viz. Faraday 1, 2, and 3, with the Inferred Resource being based on data collected in earlier bulk sampling from Faraday 2 and 3. It said that drilling in the summer of 2017 had indicated that Faraday 1 and Faraday 3 are joined at depth and can now be considered as one body, but due to insufficient data on Faraday 1 it was not included in the inferred resource estimate.
The Company said that these and some other areas of the project have been defined as a Target for Further Exploration (TFFE).
President and CEO of Kennady Diamonds Dr. Rory Moore stated: "Continued upside potential exists for the Faraday Resource from the additional strike added to Faraday 2 during our successful summer 2017 program, which is not included in the current resource estimate. This additional tonnage, together with that from Faraday 1 and the high-grade sheets associated with the Faraday 1-3 Complex have potential to materially increase the overall Faraday resource, particularly in view of the robust modelled diamond values obtained for the small sample of Faraday 1 of US$108, US$164 and $267 per carat for the 'low', 'base case' and 'high' values respectively."
He further commented: "It is important to note that the inferred resource is based on modelled diamond values that are derived by statistical procedures that reduce the value impact of high value stones recovered in small bulk samples. The 7.78 carat gem diamond from Faraday 3 has proven that larger stones exist in these kimberlites, and we would expect to recover more such stones in larger samples."
The Company said that the winter programme was being planned so as to further delineate the Faraday kimberlites, and drill test a selection of the best untested geophysical targets within the Kelvin-Faraday corridor with the aim of discovering new high-potential kimberlites.
News Source : gjepc.org