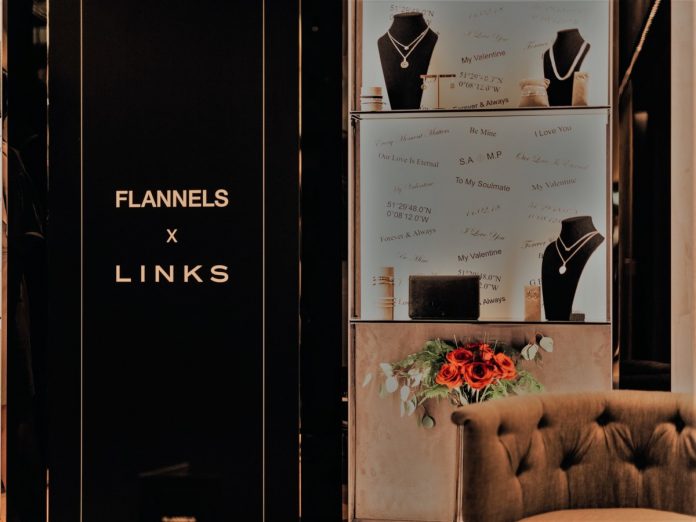 British jewellery brand Links of London has partnered with luxury fashion retailer Flannels to offers its consumers a selection of jewellery and watches.
Flannels is one of the UK's leading luxury retailers specializing in contemporary men's and women's designer clothing, footwear and accessories.
Now, Links of London products can be found inside eight of Flannel's standalone stores, and online.
Links of London joins fashion jewellery creations by designer houses Vivienne Westwood and Versace.
To celebrate the partnership Links of London hosted an exclusive VIP event at The Tunnel Club in collaboration with Flannels.
The Tunnel Club is located within the Etihad Stadium, home to the Manchester City football team, and is considered to deliver the most immersive experience in football as guests have unprecedented access to the players accompanied by modern hospitality.
Links of London enhanced the experience by gifting each Tunnel Club member one of its sterling silver narrative pendants. Over 100 of the guests then chose to visit the on-site Links of London hand engraver to create a truly personalised gift, adding a special message, name or date.
In addition, limited edition packaging, hand illustrated by Willa Gebbie, featuring the iconic London skyline alongside the Etihad stadium was featured within the display.
The entire brand collection could also be shopped within a luxury showcase that also offered the complete Flannels product portfolio via an iPad.
Furthermore, as a manufacturer of the Premier League Championship medals for many years, Links of London also presented the exact medal from the 2013 / 2014 season when Manchester City were victorious. Guests could try on the medal and take away a Polaroid moment, which, if they were lucky enough, could be autographed by one of their favourite players.
Links of London guests included top influencers and couples who could mutually enjoy fashion and football.
News Source : professionaljeweller.com