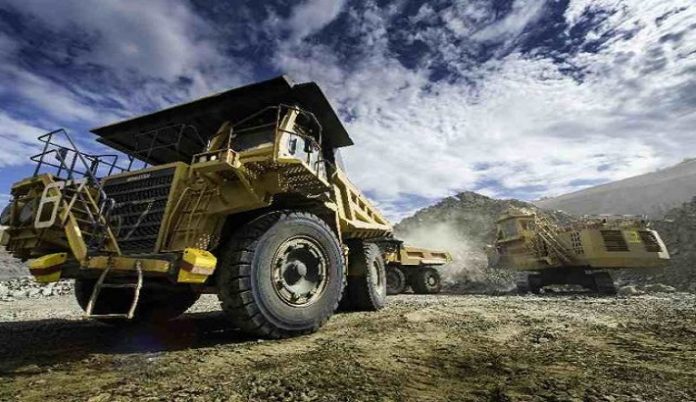 2018 was a remarkable achievement for one of Botswana's richest diamond miners Lucara Diamond Corp. (Lucara).
Under the leadership of diamond industry veteran and February 2018-appointed CEO Eira Thomas, the company has pushed forward with its plans to determine the viability of extending its Karowe mine underground.
This, however, has not been the only focus for Thomas, who has brought stability, digital technology, and strong gender-diverse leadership to the business as well, writes LAURA CORNISH.
While Thomas was fortunate to take up the role of CEO for an already profitable diamond company that has produced a large number of ultra-large high-value diamonds over its lifespan, her credentials have positioned her well to take the company forward into a new era of growth.
And since her appointment in the early months of 2018, she has shown she is well suited to elevate Lucara to greater heights – which is now well on its way.
Ensuring operational stability has been a key focus point since taking up the CEO's position, and after transitioning to a new mining contractor which started in July 2018 and is expected to be completed by 1 January 2019, forecast production and waste volumes for the full 2018 financial year have increased.
The Botswana-based Karowe operation has since its inception been designed to mine at a rate of 2.6 Mtpa to produce between 270 000 and 290 000 carats per annum – producing estimated revenues of US$170 million and $200 million.
Now, following the company's third-quarter results, it anticipates mining between 2.9 and 3.1 Mt for the year which will consequently increase its diamond recovery from the original maximum of 290 000 carats to 350 000 carats.
The increase is due to better plant performance resulting in a higher recovery of smaller diamonds, which unfortunately do not contribute materially to the company's revenue.
Despite the increase in carats recovered, revenue is expected to be in the range of $180 – $190 million (2018 guidance: $170 – $200 million).
The volume increase can also be attributed to better stability following the transition between mining contractors. August was the first month in which Trollope Mining Services was responsible for all waste and ore mining.
Performance improved considerably through the third quarter and has continued which bodes well for Karowe's performance moving forward for the remainder of its open pit operating lifespan.
Karowe underground development progress update
"Work to determine the viability of developing an underground mine at Karowe is now in full swing," says Thomas, and some of the necessary steps required for this to continue have been completed – specifically an update to Karowe's mineral resource, the results of which will be used for mine planning and to support the preparation of current studies for the potential development of an underground mine.
Resource update highlights:
The remaining indicated mineral resource for the Karowe AK06 kimberlite includes 7.9 million carats hosted in 57.85 Mt (in situ and stockpile) at an average grade of 13.7 cpht with an average modeled diamond value of $673/carat
Successful reclassification from inferred to indicated resources for the AK06 kimberlite between 600 and 400 m above sea level. The new base of the indicated mineral resource is at 400 m (600 m below surface). In situ indicated mineral resources (as at end 2017) increased by 44%
A 54% increase in the remaining indicated mineral resource for the South Lobe of the AK06 kimberlite from 4.42 million carats to 6.78 million carats, achieved through the conversion of inferred mineral resources to a depth of 400 m
Modifications to the internal geological model for the South Lobe of the AK06 kimberlite resulted in the recognition of the Eastern magmatic/pyroclastic kimberlite (EM/PK(S)) unit as the volumetrically dominant unit at depth within the South Lobe. Historical recoveries from the EM/PK(S) have included several large and high-value diamonds such as the 1 109 carats Lesedi La Rona and the 813-carat Constellation
51% of the remaining South Lobe recoverable indicated carats and 35% of the tonnage is attributable to the EM/PK(S) unit, in comparison with 12% carats and 8% tonnage from the previous estimate.
75% of the South Lobe indicated recoverable carats between 600 and 400 masl is attributable to EM/PK(S)
Subsequent to the updated 2018 resource, in conjunction with the currently budgeted work programmes, Lucara has with full confidence converted the existing prefeasibility study (PFS) to a feasibility study (FS), which is now underway and expected to be completed in H2, 2019.
The feasibility study is vital in securing Karowe's lifespan past its current 2026 open pit lifespan by at least another 10 years.
"At this stage the intention is only to start mining underground in 2026, maintaining a similar production profile in terms of operational size. Based on our resource update we do however expect the grade to increase at depth in the South Lobe," Thomas outlines
Bringing digital innovation to the forefront
Bringing industry knowledge and expertise into the day-to-day running of a successful diamond mining company is not the only attribute that Thomas has excelled in during her CEO tenure thus far.
She has also kept abreast of technological innovations and the importance this can deliver to the business.
She oversaw the acquisition closure of Clara Diamond Solutions Corp., a company whose primary asset is a secure, digital sales platform that will transform how rough diamonds are sold, unlocking value for diamond producers and manufacturers alike.
Clara uses proprietary analytics together with cloud and blockchain technologies to modernise the existing diamond supply chain, driving efficiencies and ensuring diamond provenance from mine to finger.
The Clara diamond platform is a commercially scalable, digital platform that applies computing algorithms to match rough diamond production to specific polished manufacturing demand on a stone by stone basis.
It allows buyers to source rough diamonds tailored to specific polished diamond demand resulting in improved margins for both buyers and sellers.
"After several months of intense commercialization efforts which are tracking on schedule and under budget, we are excited to be moving forward with our first sale using diamond production from Karowe with supplementary third-party diamond production.
"The platform has received strong interest from the diamond community and we are delighted to have secured excellent partners, consisting of leading diamond manufacturers and jewelry houses."
From this point, Clara will be scaled to accommodate diamond uptake from a variety of sources across the supply chain.
Testing on the platform has demonstrated the potential to unlock greater than 20% of value throughout the diamond pipeline to the benefit of all participants.
Data collected from this sale will also provide key metrics to demonstrate the premium Clara can obtain over historical tenders and for rough diamonds purchased through long-term supply contracts.
In co-operation with our manufacturing partners, Clara will analyse both qualitative and quantitative feedback about their experiences as purchasers, at the time of sale and following delivery of the diamonds purchased.
Additional feedback is anticipated as diamonds move through the diamond pipeline into manufacturing and ultimately the final retail sale.
While this provides an affordable, potentially high value, near-term growth platform, compatible with Lucara's core diamond mining business, it also facilitates the expansion of Lucara's customer base through engaging with new participants in the rough diamond supply chain and is expected to result in higher realised prices for its rough diamonds.
It furthermore provides stable, the continuous cash flow that is no longer tied to a fixed sales cycle and most importantly diversifies Lucara's existing business model with the potential to deliver strong cash flows to supplement revenue from the Karowe diamond mine.
You can read the full digital magazine Click Here
NewsSource: miningreview