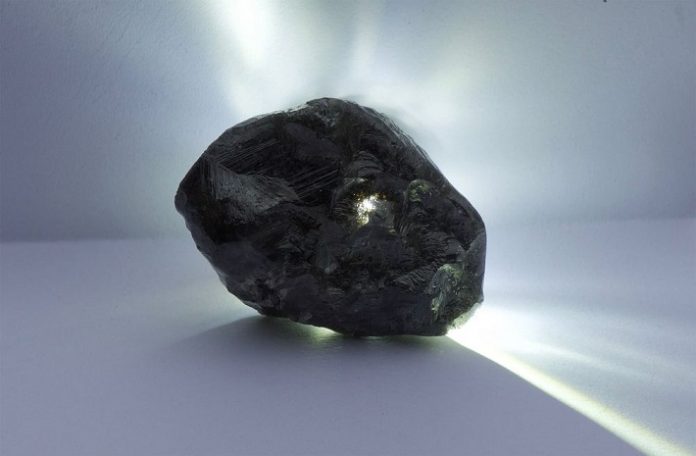 Lucara Diamond Corp. has recovered an astonishingly large diamond – 1,758 carats – from its Karowe Diamond Mine in Botswana. One of the largest diamonds in recorded history and the largest diamond ever recovered in Botswana, it may not be an immensely valuable clear white Type IIa beauty the miner is famous for – such as the 1,109-carat Lesedi La Rona or the 813-carat Constellation that fetched a record $63 million for a rough diamond – but it indicates the potential Lucara's state of the art XRT recovery circuit to detect and recover huge gems without breaking them. The diamond has been characterized as "near-gem of variable quality, including domains of the high-quality white gem." The minor notes that further detailed analysis is ongoing.
Since commissioning of the XRT circuit in 2015, a total of 12 diamonds in excess of 300 carats have been recovered at Karowe, including 2 greater than 1,000 carats, from a total production of approximately 1.4 million carats. Of the 12 +300 carat diamonds recovered, 50% were categorized as gem quality with 11 sold to date generating revenue in excess of US$158 million.
"Karowe has now produced two diamonds greater than 1,000 carats in just four years," said Lucara CEO Eira Thomas, "affirming the coarse nature of the resource and the likelihood of recovering additional, large, high quality diamonds in the future, particularly as we mine deeper in the orebody and gain access to the geologically favorable EM/PK(S) unit, the source of both of our record-breaking, +1,000 carat diamonds."
The biggest diamond ever discovered is the 3,106-carat Cullinan, found near Pretoria in South Africa in 1905. It was cut into several polished gems, the two largest of which – the Great Star of Africa and the Lesser Star of Africa – are set in the Crown Jewels of Britain.
NewsSource: thediamondloupe