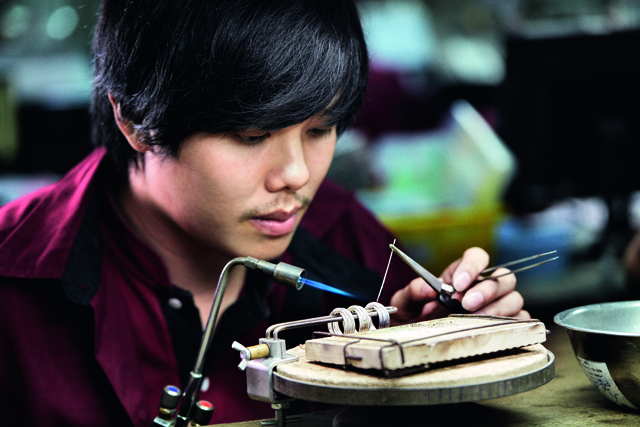 Jewellery giant Pandora has officially inaugurated its new crafting facility, Triple A, in Bangkok.
To meet increasing consumer demands the jewellery giant has been working on a capacity expansion programme which has included the launch of a new facility in Lamphun, Chaing Mai; the reconstruction and optimisation of its existing facility in Gemopolis, Bangkok; and the opening of a new production factory in Gemopolis, which has been named Triple A.
Triple A is an expansion built next to Pandora's existing crafting facility in Gemopolis on the outskirts of Bangkok, and sets new standards in the global jewellery industry in terms of craft, scale, speed and environmental impact. It also forms a central part of the brand's strategy to invest in more agile production capabilities and its ambition to bring innovation to affordable jewellery.
In terms of bringing innovations to the crafting of jewellery, Triple A incorporates flow lines where artificial intelligence vehicles transport product parts between work stations manned by up to 5,000 craftspeople. In addition, craftspeople with different skills are seated together to secure a smooth process flow and improve productivity and quality. This allows the facility to produce more than 1.5 million pieces of jewellery per week and shorten production lead time from 5-8 weeks down to a maximum of 4 weeks.
The new crafting facility has also achieved LEED Gold certification (Leadership in Energy and Environmental Design) and meets the highest sustainability standards. Wastewater is recycled to save up to 60 percent on water consumption. Energy-saving exhaust systems are implemented. A rooftop garden reduces overall energy consumption and allows employees to relax outdoors.
SVP group operations, Thomas Touborg, shares: "We are very proud to celebrate the official opening of our new crafting facility. Pandora wants to meet consumers' demand for beautiful jewellery at affordable prices made in an environmentally-friendly way, and Triple A is an important milestone for us in this regard."
"The investment also underlines our long-term and strong partnership with Thailand and the Thai people."
Triple A is an expansion built next to PANDORA's existing crafting facility in Gemopolis on the outskirts of Bangkok. The Gemopolis facility first opened in 2005 and today employs close to 10,000 people.
Since 2015 the brand has invested DKK 1.8m on its crafting facility expansion programme.
By the end of 2019 the original Bangkok factory will employ up to 8,000 people, while both the new factories will host up to 5,000 employees each.
When the operation is completed it will potentially double Pandora's production capacity to more than 200 million pieces a year. It will also reduce lead times from raw material to jewellery by 50%.
News Source : professionaljeweller.com