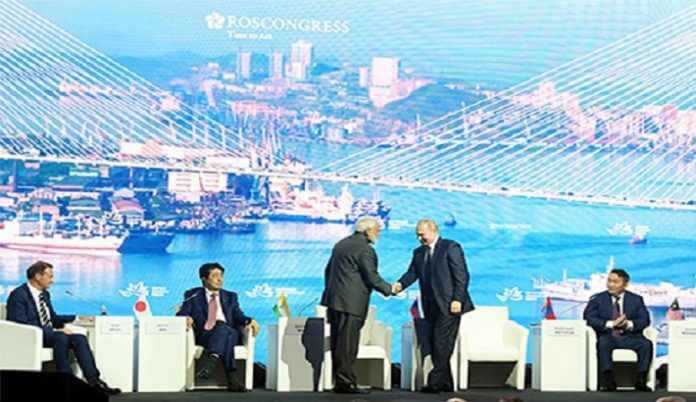 Hon'ble Prime Minister of India, Shri Narendra Modi, during his recent visit to the Russian Federation (September 4-5, 2019) held extensive discussions with his counterpart HE President Vladimir Putin on wide-ranging trade issues, amongst other things. The discussions were part of the 20th India-Russia Annual Summit which took place in Vladivostok.
While the trade talks between the two leaders covered a number of sectors, of interest to the diamond industry is their discussion on Russian diamond mining giant ALROSA and its relations with the diamond industry of India; and the general thrust towards more deepened trade ties.
A press release on the Summit put out by the Prime Minister's Office (PMO) through Press Information Bureau (PIB) summed up the dialogue between the two leaders on the diamond sector as: "They attach high importance to cooperation in the diamond industry. The successful activity of the PJSC ALROSA office in India was noted by the Sides. They declared their interest in enhancing rough diamonds trading system and exploring ways to further improve the regulatory environment in this field with the aim of protecting the equity of natural diamonds."
As reported by us earlier, ALROSA had launched its representative office in Mumbai's Bharat Diamond Bourse (BDB) about a year ago. With a large section of ALROSA's clients being Indian diamond manufacturers, the Company and the India centre have been growing closer. ALROSA has also been an early supporter of the India Diamond Trade Centre (IDTC) SNZ, which was set up to facilitate diamond mining companies to bring their rough to the country to trade directly with companies here.
The two sides also agreed to continue the work on promoting mutual settlements of payments in national currencies.
While satisfaction was expressed with "the stable mutual growth of trade turnover", the two leaders agreed to take the trade to US$ 30 billion level by 2025; by actively engaging "the impressive resource and human resources potential of India and Russia".
Further, the PIB release noted: "Both Sides expressed their interest in expanding the participation of Russian business in "Make in India" programme and that of Indian companies in investment projects in Russia. In this context, they agreed to speed up preparations for signing of the India-Russia Intergovernmental Agreement on Promotion and Mutual Protection of Investments."
Moreover, the two leaders agreed "to intensify joint work towards eliminating barriers in mutual trade", and to further consider reducing restrictive measures through bilateral dialogue.
"They agreed to improve the structure of trade in goods and services, environment for entrepreneurial activities and investment, harmonise and refine relevant import and export procedures, streamline and standardise technical, sanitary and phytosanitary requirements," the press note stated.
HE President Putin, and the Hon'ble PM Shri Modi both prioritised "strong, multifaceted trade and economic cooperation as the foundation for further expanding the range of India-Russia relations."
New Source : gjepc