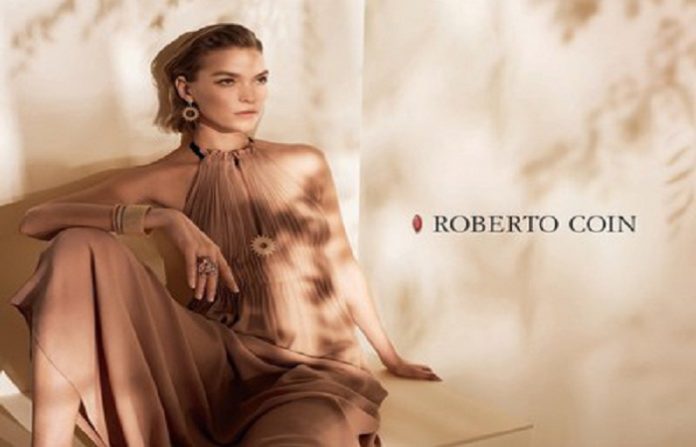 Leading Italian jewelry designer, Roberto Coin, has once again signed on with one of the top breakout supermodels and activist, Arizona Muse in the upcoming 2018-2019 advertising campaign. This will be the second time Muse and Coin have teamed up together. The campaign will debut worldwide this April and feature jewelry from the Princess Flower, the Roman Barocco, Venetian Princess, Sauvage Privé, Classique Parisienne and Pois Moi Collections.
In her career, Muse has had a meteoric rise to be one of the most sought-after models in the world. She has graced the covers of dozens of top fashion magazines, including the American, French, Italian, British, Chinese, Australian, Spanish, Greek, Korean, Mexican, Portuguese, Russian, Turkish and Ukrainian Vogue. She has also worked with such industry leaders as David Sims, Patrick Demarchelier, Craig McDean Steven Meisel and Paolo Roversi.
Muse has been the face of numerous prominent advertising campaigns that include Louis Vuitton, Jil Sander, Estee Lauder, Miu Miu, Karen Millen, Alberta Ferretti, Chloe, Prada, Isabel Marant, Fendi and Yves Saint Laurent.
"I am overjoyed to continue to work with Roberto Coin," says Arizona Muse. "I first started working with this brand in 2015 and I love both the jewelry and the designer. Roberto is one of the kindest most encouraging people I've ever met and I feel incredibly lucky to be the ambassador of his designs. His jewelry, I think, is designed from his deep appreciation and respect for women. Roberto Coin and the new campaign exemplifies an effortless beauty."
"The concept of the campaign is based on style and diversity of women," says Roberto Coin, Chairman, and Designer of the Company. "The visuals demonstrate the effortless beauty and style of every woman. Set on a balcony overlooking the Mediterranean sea, warmed up the sunset light and surrounded by nature, the constant frame our campaigns. When looking for a model to be featured in this campaign, it was without hesitation, we decided to work with Arizona again. She has been our ambassador for the brand for the last three years and she embodies our theme of timeless beauty and style."
The campaign was shot by acclaimed British fashion photographer, David Sims. His past credits in the fashion industry include advertising campaigns for Dior, MAC, Louis Vuitton, Givenchy, Tiffany & Co., YSL, Calvin Klein, and Prada as well as editorial fashion spreads in magazines such as W, Vogue and Harpers Bazaar.
The new Roberto Coin campaign will be launched early April and run digitally and in print fashion publications worldwide.
About Roberto Coin:
Roberto Coin has been an icon in the jewelry industry for more than 30 years. His designs include his signature Appassionata Collection, the new Pois Moi Collection and the Roberto Coin Cento Diamond Collection. His collection is available in Roberto Coin Boutiques and over 400 stores nationwide including guild jewelry and specialty stores..
Since 1977 Venetian jewelry designer, Roberto Coin, has devoted his life to a passion for innovative design, based on a deep knowledge of Italian art and craftsmanship tradition. Finding inspiration in the most unlikely of places, experimenting with light, texture, color, and pattern, Coin's style is ever evolving. His diverse collection, designed to fit every woman's uniqueness, is defined by a common thread—a thoughtful balance of elegance and creativity. Included in every piece of Roberto Coin jewelry is his signature ruby. The ruby symbolizes peace, prosperity, and happiness and is a special wish from the designer.
SOURCE Roberto Coin