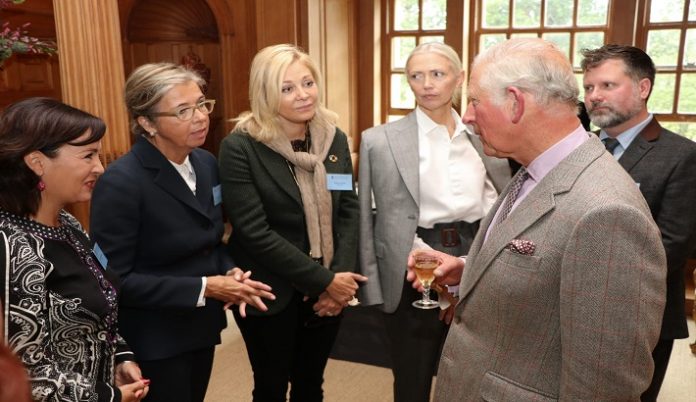 Swarovski has partnered with Fashion Council Germany and The Prince's Foundation for a conference at Dumfries House featuring a series of workshops and panel talks designed to share craft knowledge and skills, promote sustainability and support emerging fashion talent.
As part of the 'German Sustain Concept' programme initiated by the Fashion Council Germany, more than 120 young people and designers from across Scotland and Germany attended the German Scottish Sustain Conference, which highlighted the importance of sustainability in fashion and manufacturing.
The event aimed to broaden their knowledge of sustainability developments, trends and challenges and offered interactive sustainability workshops.
Topics such as natural dye methods, heritage yarns, 3D & circular knitting, and upcycled crystals were led by industry experts such as Sarah Mower, Inga Griese, Christiane Arp, Patrick Grant and Nadja Swarovski.
Some of those in attendance were also given the opportunity to meet with HRH The Prince of Wales, president of The Prince's Foundation.
President of the Fashion Council Germany and editor-in-chief of the German Vogue, Christiane Arp, shares: "Fashion designers who want to start their own business today are no longer asking themselves about sustainability issues. Of course, they think of natural materials, environmentally friendly production and fair production conditions. But the implementation is still not easy.
"That is why these fashion talents need support. Dumfries House is home to several craft businesses and schools that provide education for young people and economically revitalise an entire region. Our trip to the estate was for exchanging ideas, networking and mutual inspiration – over the long term, so truly sustainable."
The collaboration with Fashion Council Germany and Swarovski is part of The Prince's Foundation's Future Textiles initiative, designed to breathe new life into a renowned British textiles industry that exports to 150 countries worldwide.
The programme, which is inspired by the vision of HRH The Prince of Wales, runs both at Dumfries House and at Trinity Buoy Wharf in London and provides expert tuition in traditional skills such as sewing, weaving and cutting to school pupils and adults looking to gain employment in the industry. It aims to educate those with lesser opportunities and find solutions to bridge the industry skills gap created by decades of underinvestment in training.
Ashleigh Douglas, manager of The Prince's Foundation's Future Textiles initiative, says: "In order to ensure that design and production of clothing and textiles has a sustainable future in the UK, it's vital that time and effort is put into educating young designers and consumers on sustainable fabrics and processes. At The Prince's Foundation, we strive to help the industry by inspiring people of all ages to consider careers in textiles by providing them with expert training and links to industry. Sustainability is at the heart of everything we do, so we are proud to have partnered with Fashion Council Germany and Swarovski to host The German Scottish Sustain Conference at Dumfries House."
Nadja Swarovski, member of the executive board Swarovski and steering committee member of Fashion Council Germany, adds: "As a company with 125 years of history, driven by innovation, creative collaboration and responsible business practices, we are delighted to support talented, aspiring and sustainability-minded designers and provide them with upcycled Swarovski crystals, thus repurposing them so they can create new sparkling designs. Design can drive sustainable development and cultural change, and we look forward to leveraging the intelligent use of existing resources through our collaboration with Fashion Council Germany."
New Source : professionaljeweller