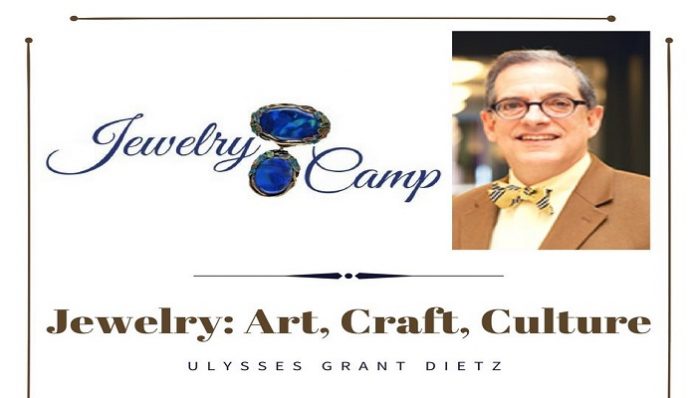 "Jewelry Camp" to be hosted at Newark Museum from October 26 – 27
Newark, NJ – The Antique Jewelry & Art Conference (Jewelry Camp), the leading resource for antique and estate jewelry education, has announced its 2018 agenda. The conference will be held October 26 – 27, 2018 at the Newark Museum in Newark, NJ and offer attendees lectures and hands-on sessions by highly regarded industry leaders in today's antique, estate and vintage jewelry markets.
AGENDA
Friday, October 26
1 pm – 5 pm: Art jewelry show featuring six artists and their collections hosted by Donna Schneier Fine Arts
Location: The Pierre New York, 2 E 61st Street New York USA 10065
6 pm – 8 pm: Hands-on jewelry preview and cocktail reception hosted by Fortuna Auction
Location: 608 5th Ave #507, New York, NY 10020
Saturday, October 27
9 am – 6 pm: Lectures at Newark Museum by:
Introduction: "The Synthetic Diamond Threat in the Antique and Estate Industry"
Speaker: Edward Lewand – Co-director of Jewelry Camp and a professional, independent appraiser of fine and antique jewelry
"Jewelry: Art, Craft, Culture"
Speaker: Ulysses Grant Dietz – Co-director of Jewelry Camp and Chief Curator Emeritus at the Newark Museum
Jewelry is always on message. From the simplest gold ring to the most complicated parure, jewelry always has one purpose: to tell you who the wearer is. Across time, culture and gender, jewelry is an indicator of a person's place in the world.
The Newark Museum's global jewelry holdings explore this intersection of material and meaning in all its familiar diversity. From diamond bracelets to feathered hair ornaments, the museum's collection is a study in aesthetics and aspiration. Examples of jewelry from Europe, America, Africa and Asia will shed light on the myriad ways people use personal ornaments in both subtle and explicit ways.
"Maintaining and Selling Your Collection"
Speakers:
Susan Abeles – Head of Jewelry, Americas and Senior International Specialist at Phillips
Eva Violante – Senior Specialist and Vice President for Phillips Jewels Department
Maintaining and selling your collection may seem straightforward, but there are some basic guidelines and processes which require understanding in order to pick your unique strategy. This presentation will examine factors such as style, condition and intrinsic worth; common mistakes when maintaining and selling; methods for selling jewelry, and the strengths and liabilities for each; and the best strategies for getting a return.
"Matters of Form: Jewelry Styles and Motifs"
Speaker: Donna Bilak – Early modern science historian specializing in the history of alchemy in British North America, England and the Continent
In 1856, the architect and design theorist Owen Jones published The Grammar of Ornament, an authoritative design sourcebook that reflected Jones' ideas about key
principles in architecture and decorative arts, and which drew from diverse historical sources. This lecture takes Jones' work as a point of entry into considering jewelry history and technology from a global perspective, and by looking at design in the context of form, function, and materials across time and culture.
"Building a Collection: American Jewelry at The Met"
Speaker: Beth Carver Wees – Ruth Bigelow Wriston Curator of American Decorative Arts, Metropolitan Museum
American jewelry entered the collection of the Metropolitan Museum as early as 1883. By the year 2000 the collection had grown to around 75 objects, almost all acquired by gift. How does a curator go about expanding such a collection in a meaningful and affordable way? In this talk, Ms. Wees will discuss the guiding principles of adding to museum collections, some of the individuals who have helped along the way, and many of the treasures that now find a home in the Met's American Wing.
"Digital Diamonds: High Jewelry in the Social Media Landscape"
Speaker: Levi Higgs – Archivist and social media manager at David Webb
Fine jewelry has infiltrated the world of social media, and it could not be more at home. As Instagram evolves as a platform, jewelry houses and industry professionals are evolving with it, bringing dynamic content to posts, stories, and paid advertising. This talk will delve into current best practices from top brands and notable social-specific campaigns, as well as explore other facets of the jewelry industry that are perfectly suited for Instagram.
"The Allure of Jewelry: The Best is Always Desirable"
Speaker: Janet Zapata – Independent scholar and museum consultant specializing in jewelry and silver
The past hundred years has witnessed an evolution in jewelry design that is unprecedented in the history of jewelry. I will begin my presentation at the turn of the twentieth century with the introduction of platinum that resulted in the all-white look made famous by Cartier's garland style. Diamond-set flowers and bows were followed by the bold colors of the rectilinear Art Deco style of the 1920s that evolved into the sculptural Art Moderne forms of Van Cleef & Arpels and Suzanne Belperron. Individual designers such as Jean Schlumberger and Donald Claflin at Tiffany & Co. introduced a figural style while the designs of Hemmerle and JAR heralded a new century.
News Source: JewelryCamp.org