Chestnut Hill, Mass.–In 50 Jewelers/50 States, National Jeweler interviews one retailer in each of the 50 U.S. states to find out how they are meeting the challenges of the changing retail environment.
Cynthia Kagan opened Quadrum Gallery, located just five miles west of Boston in Chestnut Hill, Massachusetts, in 1978. In the nearly 40 years since, it's garnered a reputation as an independent jewelry design destination.
Today, the store has eight employees, including Director Sia Maravelias and Assistant Director Amy Renneisen.
"We are like a really small family, and we all love doing what we do," said Maravelias. "Each of us participates in all the many facets of the business, from sales to social media."
This personal touch extends to Maravelias' philosophy regarding customer service.
She explained, "There is nothing better than walking into a store and having that one-on-one experience, where you are on a name-to-name basis."
Maravelias chatted with National Jeweler about serving Quadrum Gallery's self-purchasing female customer and keeping work fun.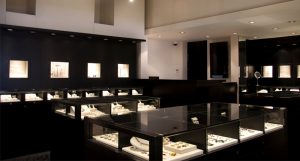 National Jeweler: What's the biggest challenge your store is facing?
Sia Maravelias: Bridal has been a challenge for us, as we feel like the current market is evolving.
Our ultimate goal and top priority is to provide the greatest level of customer service possible, connecting, and hunting for the perfect pieces for our clients spread out all over the world. That is why we are so passionate about every little detail that goes into what we do, from our carefully curated selection of artists, to our photography, to our website, to our display cases and how we represent our designers.
NJ: What's the top-selling brand and category at your store?
SM: Our clients love colored gemstone jewelry and Jamie Joseph, Barbara Heinrich and Gabriella Kiss are highly coveted.
NJ: Who is your regional customer?
SM: Our customer is predominantly a female self-purchaser who has an appreciation for beautifully crafted artist jewelry and loves to treat herself.
Our clients come to us because they trust us and value our time and knowledge in bringing them what we think is the very best.
NJ: What's the most popular style of engagement ring with your clientele now?
SM: All of our engagement ring purchases are unique. We love that our customers seek one-of-a-kind rings that speak to them and their love.
NJ: Which social media accounts are important to your business?
SM: Instagram is number one. It's a great way for us to connect with our customers and reach a broader audience.
We have one account for the gallery, @quadrumgallery. It allows us to instantly showcase new arrivals (to the store). We also like to give our followers a personal view of our favorite pieces with ideas on how to stack and mix-and-match metals and designers.
We also love how Pinterest has become this amazing way for people all over the world to discover us.
Both Instagram and Pinterest drive a huge amount of traffic to our e-commerce site.
NJ: How is your e-commerce doing?
SM: Our e-commerce site, www.quadrumgallery.com, has shown great growth year after year. It is absolutely essential for us to have an online presence. It is an ongoing, evolving project that we are continually perfecting.
We also find that our local clients love to pre-shop our site so that when they come into the gallery they have ideas of what they want to try on in person.
NJ: What's the best piece of advice you'd offer to other independent jewelry stores?
SM: Stay current and open an Instagram account if you haven't yet–that's where it's at!
NJ: What's a fun fact about you we can share with our readers?
SM: (Our staff) loves to party! (We celebrate) every opportunity possible–birthdays, anniversaries–and always with Veuve Clicquot!
News Source: http://www.nationaljeweler.com