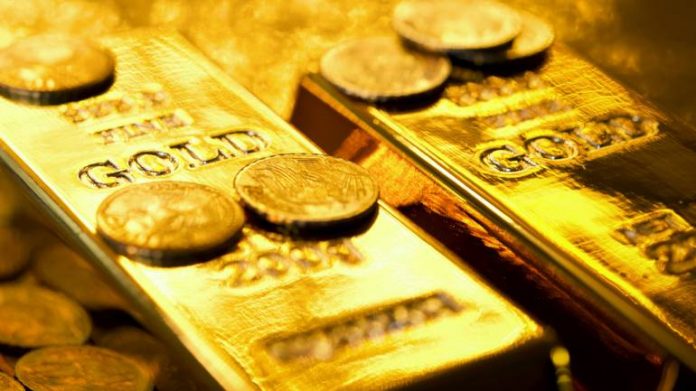 US gold futures for August delivery were nearly unchanged at $1,259.90 an ounce. Gold prices edged up on Tuesday, after hitting a two-week high in the previous session, amid political uncertainty over Brexit and as the US dollar held steady.
Spot gold was up 0.2 percent at $1,259.30 an ounce, as of 0357 GMT. In the previous session, the metal touched its highest since June 26 at $1,265.87.
US gold futures for August delivery were nearly unchanged at $1,259.90 an ounce.
"A stronger yuan and slight weakness in the USD has provided support for gold," said National Australia Bank economist John Sharma.
"Also, geopolitical issues such as Britain's confused exit from the European Union and US President Trump's assertion that China was impeding North Korean progress on denuclearisation have provided some support for gold."
The dollar was little changed against a basket of six major currencies on Tuesday after dropping to its lowest since mid-June in the previous session, while the British pound was frail after the departure of two key eurosceptic ministers raised worries about a "hard Brexit."
Britain's ramshackle exit from the European Union could damage economic growth in the eurozone, European Central Bank policymaker Ewald Nowotny said.
US President Donald Trump suggested on Monday that China might be seeking to derail US efforts aimed at denuclearizing North Korea, but said he was confident that North Korean leader Kim Jong Un would uphold a pact the two agreed on last month.
Investors were also waiting on the sidelines for developments on the trade war front between China and the United States, said Dick Poon, general manager, Heraeus Metals Hong Kong Ltd.
Meanwhile, hedge funds and money managers raised their net long position in COMEX gold by 105 contracts to 4,291 contracts in the week to July 3, US Commodity Futures Trading Commission (CFTC) data showed on Monday.
Silver speculators trimmed their net long position by 11,515 contracts to 10,651 contracts, CFTC data showed. This was the weakest position since January.
Holdings of SPDR Gold Trust, the world's largest gold-backed exchange-traded fund dropped 0.18 percent to 800.77 tonnes on Monday.
In other precious metals, silver climbed 0.4 percent to $16.14 an ounce and platinum gained 0.6 percent to $851.90.
Palladium dipped 0.1 percent to $959.50 an ounce.
News Source:- moneycontroal.com