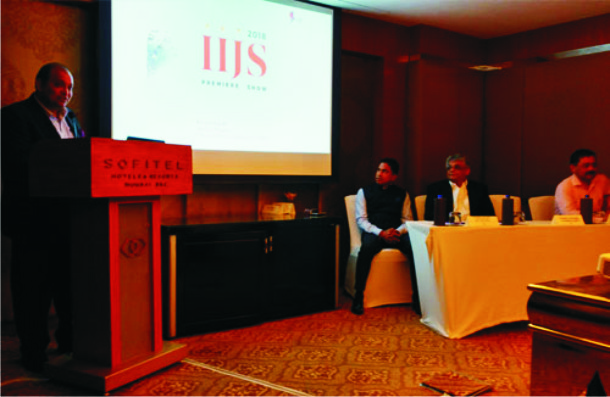 The 35th edition of the India International Jewellery Show (IIJS) 2018, to be held from August 9th to 13th at Mumbai, will not just be bigger, with a nearly 20% increase in floor space and the number of exhibitors, but will also ensure greater 'ease of doing business' due to a number of innovative changes that are being introduced at the show this year, the GJEPC announced at a press meet this morning.
In his opening remarks, Pramod Agrawal, Chairman GJEPC said that the show was today among the largest in the world and would this year showcase the best jewellery collections from over 1,300 leading manufacturers. He said that IIJS played an important role in boosting the country's exports which had crossed US$ 40 billion in FY 2017-18. "The industry is contributing to the country's economy and providing employment to nearly 6 million people. And it also contributes for the upliftment of society at large with its philanthropic activities in the health, education and other social sectors."
Introducing the new features of the show, Shailesh Sangani, GJEPC's Convener National Exhibitions said that with the increased availability of space, the Council will be able to accommodate all companies that have been on the IIJS waiting list from 2015 and before, as well as offer larger booths to those who have already been a part of the show.
Hall 7A, which will be a new addition at this year's show, will see the introduction of mega-sized 12×12 booth mezzanine stalls, in addition to a larger number of 8×8 and 6×6 mezzanine stalls. "It is also a pillarless hall," Sangani stated, "which will increase visibility for exhibitors as well as ease of movement for visitors."
The larger booths in the hall will house exhibitors from both the plain gold and diamond studded jewellery segments, he added.
Allocation of additional booths will be done in a structured manner so as to give preference to exporters, manufacturers and MSME companies. Special sections are also being created to showcase start-ups, women entrepreneurs and artisans using traditional craft techniques.
Another path-breaking initiative is the introduction of a Preview Day. Though the exhibition will officially open on August 9,international buyers andabout 2,000 – 3,000 select leading retailers, buyers,retail chains as well as industry leaders will be invited to preview the collections a day earlier, on August 8.
Explaining the rationale, Sangani said, "Our aim is to ensure that the owners and senior representatives of leading companies visit the show when it is less crowded and get a chance to get a clear look at the offerings on display. They can then better guide their managers and buyers who will place orders once the show actually begins."
He said that the IIJS team had invited exhibitors to each recommend a few names and the Council would compile the final list of invitees for the Preview Day.
The Machinery section of the show will also see growth, with the addition of a new venue – Hotel The Leela – thatwill house 60 extra booths.
Other changes include introduction of a complete online digital guide using the GJEPC Mobile App, the launch of an online business matching programme, more entry and exit points both in and out of the venue as well as in and out of the Halls and a larger promotional programme, including more national and international road shows.
A change that will be widely welcomed is the launch of a special RFID-enabled badge that can be retained for a period of three years. "Visitors will now no longer have to fill forms and complete other formalities every year," Sangani said, adding that once registered, s/he could potentially use the same badge for six IIJS events spread over three years. "If anyone wishes to attend the next Signature show, or even 2019 IIJS, s/he will have to use the App or website to revalidate the badge for that event by paying the regular registration fee through a simple online process. Someone who skips an event does not have to pay for it."
Other regular events – the Prelude to IIJS, Jewellers for Hope Charity Dinner and the Spectrum Seminar series will continue to add value to the show experience.
Pic Cap: GJEPC Chairman Pramod Agrawal addressing the press. On the dais (from l) Mansukh Kothari, Co-Convener and Shailesh Sangani, Convener National Exhibitions and Sabyasachi Ray, ED
News Source : gjepc.org