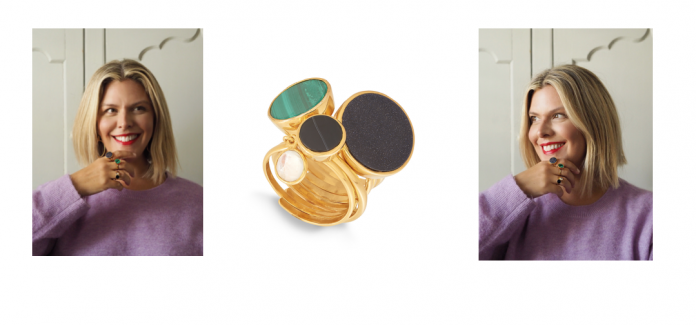 British fashion brand SVP Jewellery has announced a collaboration with fashion and lifestyle influencer Erica Davies.
Erica Davies has been a huge support and fan of SVP Jewellery and its adjustable rings adorned with semi precious stones from the very beginning, so the collaboration came as an organic next step for the brand's relationship with the influencer.
The capsule collaborative collection has has been created as an ode to Erica's family, with each individual ring named after her loved ones.
The range features four adjustable rings that have been handcrafted using slices of gemstones crafted on an 18 carat gold vermeil adjustable band.
Erica Davies says: "It makes total sense for me to partner with Sarah and SVP Jewellery for my very first design collaboration because I have been wearing her rings since she launched! The beautiful stones and simple gold settings really pack a style punch – and it's been such a treat creating four of my own. I love that everyone can personalise how they're worn – whether you want to make a statement with one large ring, or layer them up on every finger (which I do quite often!)."
"Erica has been a fan of SVP Jewellery right from when we launched our very first line of rings, and has been loyal to the brand since," adds designer and founder of SVP Jewellery, Sarah Verity Parham. "She has been a great support to us, and we are absolutely delighted to have Erica at the helm of our very first collaboration."
The Evangeline ring named after Erica's grandmother is the largest at 16mm x 16mm and uses blue sunstone, a crystal to bring power and protection. This stone is also said to help attract fame and success.
The Lila ring named after Erica's daughter uses a slice of 12mm x 12mm malachite. Malachite is known as the transformation stone; it has protective and supportive energies that stimulate clear thinking and wellness.
Jennifer, a ring named after Erica's mum, has been set with an 8mm x 8mm slice of white striped black agate. This stone is for self-control and gives resilience and quiet power, as well as giving peace and keeping anxiety at bay.
Lastly, the Charlie ring is named after Erica's son set with a 6mm x 6mm rainbow moonstone charm. Rainbow moonstone is used for the healing of the heart and balance. It's good for meditation and if you are at a crossroads in your life, this stone can show you the way.
News Source: professionaljeweller.com