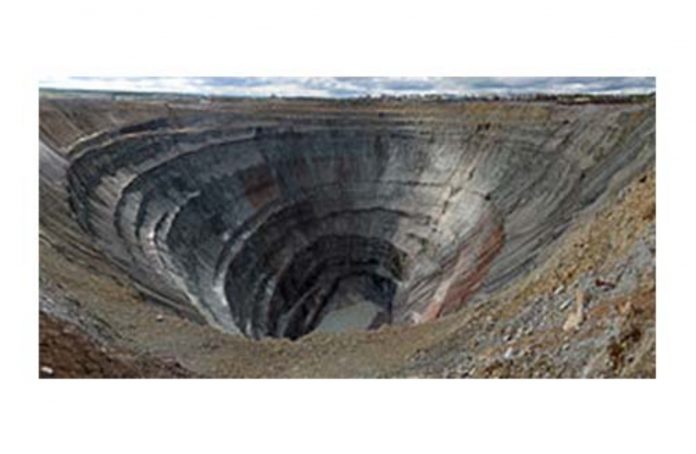 ALROSA has announced plans to conduct a design competition to create a concept for resumption of diamond mining at its Mir deposit where mining operations have been halted since a major flooding incident occurred in August. The competition will be open to both Russian and international experts from the scientific community who will be asked to develop a completely safe technical solution for resumption of underground mining operations at the deposit. The Company aims to create its final vision for the work, based on the results of the competition, by the third quarter of 2018.
The plan for the competition has emerged as a follow up of the research and technology seminar recently held at the Yakutniproalmaz Institute where participants outlined three focus areas for the development of safe technical solutions.
ALROSA said that the three major directions were outlined at the seminar, where 16 reports covering more than 30 possible approaches and options for the resumption of operations were presented by experts.
The first of them provides for the restoration of existing openings (shafts) and pit bottom roadways ensuring the maximum possible use of the existing surface complex infrastructure. The second approach involves the construction of new shafts to the full depth of explored reserves, with the priority mining of deep levels and simultaneous creation of an integrated drainage system from the deposit through a drainage shaft and dewatering wells. The third approach provides for the cutback of walls of Mir open-pit mine to ensure the access to its bottom and create effective water pumping with subsequent underground mining.
Participants in the design competition would have to present a final technical design based on a detailed and comprehensive study of either of these approaches.
The seminar was attended by 70 specialists from structural subdivisions, including Mirny Mine Construction Trust engaged in the construction of underground mines, Mirny and Udachny Mining and Processing Divisions, Vilyuiskaya and Mirny Exploration Expeditions, Yakutniproalmaz Institute, and NTC NOVOTEK. Former ALROSA's specialists who have extensive experience and are well acquainted with the problems of underground construction and mining attended the seminar.
ALROSA President Sergey Ivanov, "Our core task is to ensure the complete safety of operations at Mir deposit, therefore we need a perfect design solution. We will get involved the entire leading scientific community, both Russian and international experts, in the development of the underground mine restoration project. We expect to receive the vision of the future project in the III quarter of next year."
News Source: gjepc.org