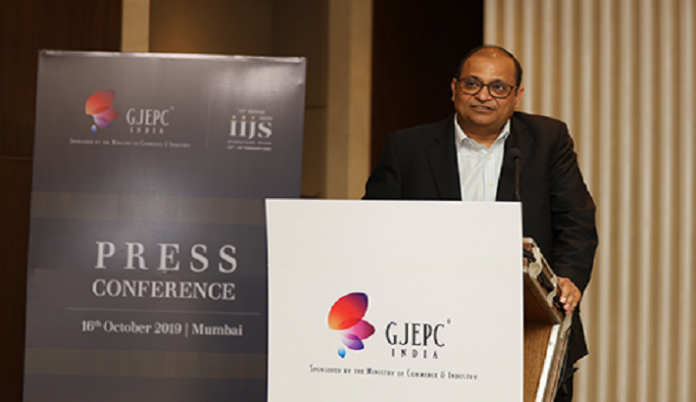 The Gem & Jewellery Export Promotion Council (GJEPC) held a press interaction yesterday, October 16, 2019 in Mumbai.
The press meet was addressed by GJEPC Chairman, Pramod Kumar Agrawal, Vice-Chairman Colin Shah, Convener of the Exhibitions Sub-Committee (National), Mansukh Kothari and Executive Director Sabyasachi Ray. It was also attended by Shailesh Sangani, Member of the Exhibitions Sub-Committee (National).
GJEPC Chairman opened the meeting by providing an overview of the industry, its achievements and the various initiatives undertaken by it. The GJEPC, which has been in existence for over five decades, today has a membership of over 7000 member-exporters, with gems and jewellery exports from India amounting to US$ 40.45 billion for FY 2018-19. The gems and jewellery industry, as a whole, contributes 7% to the country's GDP; has a share of 12.25% to the country's merchandise exports; and employs 4.64 million people.
Agrawal said that the industry had been facing several challenges both at the international and national level and g&j exports for the current financial year had been depressed. It was likely that overall exports of g&j products for FY 2019-20 might show a drop of about 7.5% y-o-y, he said.
However, he re-iterated that the GJEPC had set the target of achieving exports worth US$75 billion and adding two million more jobs over the course of five years. This was achievable he said, as India today holds fifth place with a 6.4% share of the world g&j market. By reaching higher and wider, India could take a larger share and improve both its position as well as total exports.
Agrawal referred to a number of initiatives like the Jewellery Park, the first of which would be coming up in Mumbai; the Common Facility Centre (CFCs) four of which are operational and plans for another 13 have been sanctioned; a Gem Bourse slated to come up in Jaipur; the Swasthya Ratna, a health insurance scheme and the Swasthya Kosh, a fund being raised to fund health insurance; and the Parichay Card which would be a kind of industry Aadhar card; and finally the upgradation of workshops in the sector. He emphasised that all these measures would help to upgrade the product, especially of the MSME sector by providing infrastructure, including state-of-art technology; as well as provide for the welfare of the workforce.
He also alluded to the marketing of g&j products through Buyer-Seller Meets, GJEPC's national exhibitions and participation in international exhibitions and the promotional campaigns being undertaken by the GJEPC, both in conjunction with the DPA as well as on their own. This he said would help strengthen market presence in existing markets and reach new markets.
Agrawal stressed that the Government was being extremely supportive and had already introduced a number of measures to improve Ease of Doing Business for the gems and jewellery export sector.
Vice Chairman Shah went into greater detail on the current scenario. Diamond manufacturing was at an all time low with destocking by major retailers in the US: supply was greater than demand; and profit margins have been greatly reduced. As a result of the situation, several diamond manufacturing units had been closed down and workers in the sector were being given lay-offs. Finally, he stressed that bank finance to the industry was extremely inadequate.
Turning to gold, Shah said that the increased duty on gold from 10% to 12.5% had proved to be a dampener and September imports of the gold metal were down substantially as a result – only 37 tonnes were imported in September 2019 as compared to 197 tonnes in the same month last year. The rupee price of gold at Rs. 40,000 per 10 gms was also at an all time high he noted. Increasing gold prices had hit consumer demand he underlined which has further confounded a market seeing shifting preferences amongst the millennial consumers. Again, he pointed out, bank finance for smaller manufacturers is a major challenge.
Shah elaborated on the Chairman's words on the various positive policy changes which had been recently introduced by the Government, primary of which was the re-introduction of the Replenishment Scheme for the jewellery sector; abolition of the one-to-one correlation between the import of precious metals and exports of jewellery; exemption of 3% IGST on supply of gold, silver and platinum by nominated agencies to exporters; increase of number of days of the jobwork period in SEZs from 28 to 45; abolition of IGST on re-import of goods exported through exhibitions/export promotion tour modes; and reduction in GST rate from 3% to 0.25% on cut and polished semi-precious stones.
Shah also provided information on the GJEPC's promotional activities which included an annual contribution of US$ 2 million towards DPA's "Real is Rare" campaign. And amongst other promotions, he said, a corpus of US$1 million has been allocated for a campaign in the Middle-East.
Apart from these generic campaigns, Shah said that the GJEPC had undertaken an image-building exercise to put the facts of the industry and the good it does, before all stakeholders. He also spoke about the Jewellers for Hope initiative which each year has disbursed Rs. 1 crore to three organisations (every year) involved in working for the welfare and betterment of various sections of society.
Ray took the audience through the details of the Parichay Card, the Swasthya Ratna and the Swasthya Kosh.
He said that the aim of the Parichay Card was to create a verified and authentic database for mapping gems and jewellery workers. Ray emphasised that the Parichay card would be an identity card for the worker and the instrument through which he could avail of a variety of benefits including health insurance. He said that while on the one hand the GJEPC had undertaken cluster mapping, to determine what was needed in various centres, it had also undertaken to map the workforce to get a precise idea of the numbers within the industry and to help assist them in getting the required support. Total enrolment/applications for the Parichay Card today stand at 2,60,950.
These cards will then be linked to the Swasthya Ratna, a subsidised health insurance scheme in its fifth year and which today covers a total of 5,21,659 lives.
Ray also spoke about the MyKYCBank, a platform for getting to know companies you do business with, which has gained much traction in the past years.
He also emphasised the work being done on the MSME front in order to inform entrepreneurs about various schemes applicable to them, about how to build more organised, transparent and compliant businesses and to provide them with the necessary infrastructure and technology which would be available to them at extremely reasonable prices.
In this context, Ray announced a new initiative – "model workshops" – which he said would be set up in different manufacturing centres which would provide the "ideal" workshop which could them be emulated by the entrepreneurs in the area.
New Source : gjepc