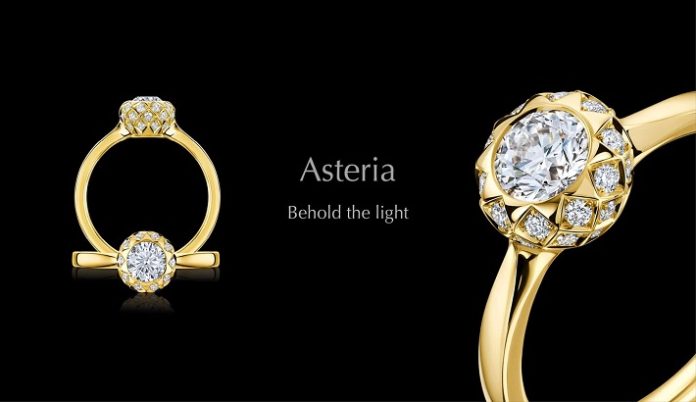 British jewellery designer unveils new engagement ring and wedding band collection that showcases an innovative alternative halo setting and ring jacket
British luxury jewellery brand Andrew Geoghegan has launched a new bridal collection inspired by the radiance of the sun. Asteria is a celebration of light and a symbol of new beginnings, and marks the debut of an alternative halo setting that is exclusive to the jeweller.
Asteria has been designed to create complex plays of light that catch the eye from every angle. A highly polished sunburst surrounds the centre stone of the Asteria engagement ring to reflect light. Yet more brilliance is created by the innovative setting studded with micro-set gems within lozenge shapes that create a luminous alternative halo. The effect is an arresting brilliance that radiates all the way to the finger.
The Asteria Solitaire is partnered by a wearable jacket-style wedding ring, which has a fan of highly polished sunrays radiating above the band. Special attention has been paid to the inner sweep of the ring, which has been perfectly angled to ensure full visibility of the solitaire's micro-set gems.
Andrew Geoghegan, who founded his award-winning namesake brand in 1998, said,
"Asteria signifies an important evolution for the brand. Although it possesses the unmistakable AG spirit, it also shows a deeper love for and exploration of the play of light – on both metallic surfaces and gemstones. The various elements within the setting each have their own strong character but yet also work flawlessly together. With Asteria I also wanted to showcase the most skilled gem setting we have ever achieved and I am delighted to say the precision, and the beauty of the entire piece, is something to behold."
The Asteria collection officially launched in mid March, and will roll out across a select number of Andrew Geoghegan partner boutiques as well as online at the brand's website.
The rings are available in 18ct rose, white and yellow gold or platinum, with various stone setting options including diamonds, rubies, emeralds, sapphires and tsavorites.