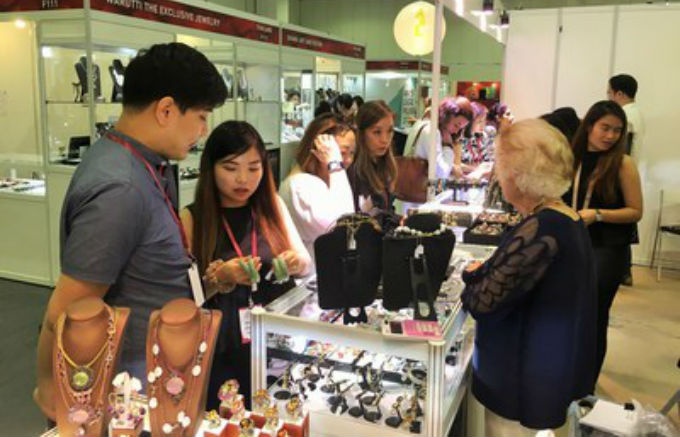 The annual Singapore Jewellery and Gem Fair (SJGF), which opens on October 26 to 29 at Singapore's Marina Bay Sands, is shining the spotlight on creativity and jewellery design.
New features such as a Designers Atelier Pavilion will debut to promote jewellery designers from Singapore, including newcomers Carrie K. and Sara Tan, and the region, according to organiser UBM Asia Ltd.
Complimentary activities such as JewelTalk Seminars and Gem Jemming sessions meanwhile will offer visitors an opportunity to learn more about jewellery design and its intricate process. Visitors can extend their knowledge on gems and precious stones by checking out the Gem Museum and attending the Gem Rendezvous @ SJGF2018 – a three-hour knowledge exchange and networking session.
Another highlight of the show is the Singapore Jewellery Design Award 2018, organised by the Singapore Jewellers Association to recognise and encourage budding international jewellery designers. The top three winners will be announced at the SJGF, with the most outstanding designs made into jewellery pieces and marketed alongside those of leading jewellers.
There will also be a Design-Your-Ring Competition for those keen on unleashing their inner creativity.
Regional flagship jewellery houses are also making a comeback. These include Ekos, Fook's Jewelry, Futang, Kourosh, Naing Family Mogok Gems & Jewellery, Rikhava Diamonds, Vihari Jewels and Yoel Deil Diamonds who are among the 150 exhibitors from 20 countries and regions that are returning to SJGF. More than 150,000 timeless pieces, jewellery collections and bespoke pieces such as fine jewellery, gemstones and pearls will be on display at the show.
Visitors can also drop by various country pavilions housing local flagship jewellers from Cambodia, Hong Kong, Indonesia, Italy, Japan, Malaysia, Myanmar, Singapore, Thailand and Vietnam.
News Source: jewellerynet.com