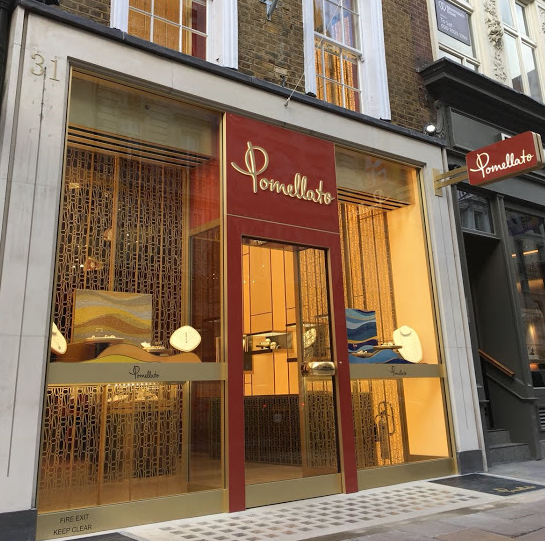 Luxury Italian jewellery brand Pomellato has expanded its international presence with the opening of a flagship boutique in London.
Located on New Bond Street, the heart of London's prestigious jewellery street, the new Pomellto store nods to its heritage and new home in England.
Originally founded in Milan in 1967, Pomellato blends impeccable Italian craftsmanship with contemporary gems to create modern pieces that can be mixed and matched to reflect the wearer's style and personality.
The brand's own personality can be seen throughout the store, with features including a striking pink marble floor, walls that shine with lacquered red, and contrasting panel colours.
The store has been inspired by Pomellato's Via Montenapoleone location in Milan. From the exterior, the New Bond Street storefront is designed with classic brand touches and colours that blend with the prestigious neighbourhood. The trademark grillage that identifies the Milan brand frames both sides of the double doors, as this decorative embellishment is also found on the 1st and 2nd floor windows.
In addition, Pomellato's new home in London was restored to respect the architectural codes of the 19th-early 20th century, as its building was strategically chosen for its Victorian exterior.
Inside, intimate curved benches are formed of a plush purple design, as the ground floor sales area enjoys six-meter- high ceilings that allow for copious light and space. To reflect the colours of the boutique, the ceiling is curved into an expansive dome-shaped mirror, with trimmings of bronze – an exquisite feature that was custom-designed for this London location.
Chief executive officer of Pomellato, Sabina Belli, comments: "We are proud to bring Milanese design to the world, and to open this new boutique in the beautiful city of London. As this was a Pomellato project dear to our hearts, we spent a great deal of time designing this boutique to respect and incorporate traditional English codes and ambiance, but ultimately shine with the soul of Milan. We look forward to welcoming our London clientele into our new boutique, and sharing our bold Italian design inspiration with one more corner of the world."
With most of its workforce being women and its consumers largely self-purchasing females, the Milanese brand has established itself as a truly female affair.
News Source: professionaljeweller.com