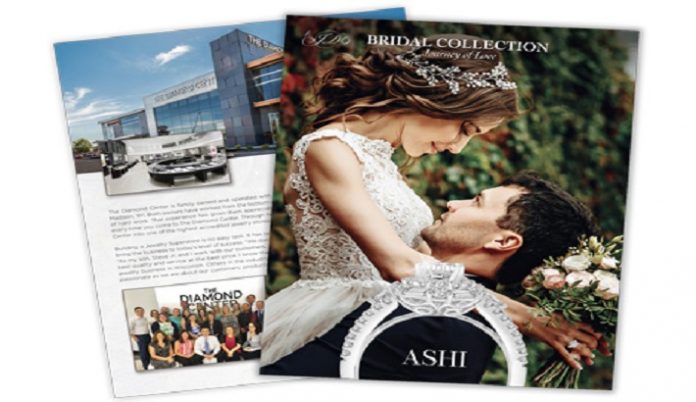 ASHI Diamonds is excited to unveil their 2020 Bridal Program – Journey of Love. In an effort to fulfill every bride's wish, ASHI has married the gracefulness of today's modern bride with the timeless elements of her dream wedding. ASHI has brought together beautiful new designs, a selection of best sellers, and reworked some classics into a graceful and timeless Bridal Collection, capturing the biggest moments of her courtship, proposal and her big day. From intricate milgraining to delicate lattice work to soft curves, ASHI's designs capture the details that truly set her apart.
Ashi bridal"Our team has worked tirelessly to provide our customers with a fantastic presentation of bridal rings and wedding sets that accentuate the modern bride and set her apart from everyone else. It is in the finest details of our copyrighted styles that our commitment to quality and workmanship is exemplified, and best defines ASHI's latest Bridal Collection," states Mr. Pandya, partner of ASHI Diamonds. "Our comprehensive marketing program provides our partners a platform that enables them to extend their presence to newer markets. At ASHI, we strive to be our retail partners' product and service solution so that they can focus on the demands of their own customers."
The 24-page book highlights more than 160 bridal pieces, which include more than 40 new designs. The book features a new assortment of contemporary, vintage, and traditional bridal able to please even the most discriminating consumer. Inside you'll find today's most innovative styles with designer looks, proven best sellers, and a resurgence of traditional styles that have been re-crafted by ASHI into new bridal classics.
"Today's successful jewelers expect and deserve more from their vendors than the normal – ASHI is dedicated to being the leader in presentation of jewelry to your consumers," said Pandya. "Our Bridal Book has the perfect blend of exceptional value and reasonable prices that today's consumers demand. The wide selection of featured products provides the quality customers expect at retail prices they want, allowing you the flexibility to achieve a competitive advantage in any market."
The ASHI 2020 Bridal Marketing Program incorporates all the print to digital marketing, e-commerce and merchandising strategies to help you establish your store as the premier bridal source in your market – where you are the brand.
Bridal Program 2020 Highlights:
24 Page Bridal Book: Showcases ASHI's Bridal Program. Can be customized with your store's logo and picture, store history, other bridal brands, coupons and social media sweepstakes.
In-Stock Program & 5 Day Preview Program: Utilize ASHI's no obligation 5-day invoice-memo on most styles featured in the Bridal Book. The 5-day Preview Program has a proven 40% sell through rate. Most styles are stocked for overnight delivery.
Matching Bridal Max Memo & Extended Terms: Approved retail partners receive a matching ASHI Bridal Max Memo Program, as well as extended terms.
Advertising Co-op Subsidy: Receive a 4% advertising subsidy against net asset purchases to offset the cost of the Bridal Marketing Program. The savings can offset the cost of using the Bridal Book as an in-store handout or direct mailer.
Special Order Delivery: 2-week delivery on most special orders.
Branding Your Store Name: Individualize the book with your store logo on the front and back covers, store pictures and history on the inside front cover.
Brand Customization: Option of customizing 4 or 8 pages with your jewelry and watch brands to obtain co-op from other lines that perform well in your store.
Digital Marketing (all free): Digital marketing benefits include: QR code, digital coupon, e-mail campaign and a free responsive bridal store micro-website, branded with your company info, integrated e-mail system, customized retail markups and integrated shopping cart with PayPal and order by phone options. The Bridal Store micro-website showcases all ASHI's bridal designs with high-quality jewelry images in 3-view angles along with other features to convert website browsers into buyers.
Bridal Sweepstakes: Take part in ASHI's Global Bridal Sweepstakes or create a Customized Sweepstakes with your own ASHI Bridal Giveaway. The Sweepstakes provide you with a unique marketing opportunity to increase and broaden your customer base, as your social media posts are liked, and shared, by your customers and their friends. This style of viral marketing will boost your brand exposure, and enable you to increase sales. In addition, you will be able to collect names and e-mail addresses of potential customers for future marketing campaigns.
Television Commercial & Marketing Visuals (all free): TV and print advertising materials in high resolution images optimized for websites or localized advertising purposes.
In-store Marketing Visuals (all free): In-store looping DVD's as well as handouts for your potential customers.

"The 2020 Bridal Merchandising and Marketing Program not only represents ASHI's contribution of quality, value, service and marketing support to your organization, but further emphasizes our commitment to your successful bridal business and beyond," said Pandya. "This total package serves to remind our jewelers that ASHI is often imitated, but never duplicated!"
To learn more about the ASHI Bridal Merchandising and Marketing Program, please call ASHI at 800-622-ASHI (2744) or contact your regional sales representative. For more information, please visit www.AshiDiamonds.com.
News Source: southernjewelrynews