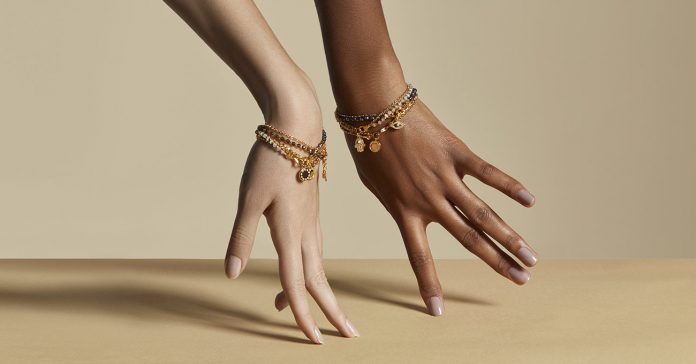 British jeweller Astley Clarke has bolstered business by transforming its online marketing.
Partnering with marketing platform, Emarsy, the luxury jewellery brand has used artificial intelligence (AI) solutions to increase revnues through enhanced customer engagement.
With more targeted, tailored outreach, Astley Clarke has already seen direct revenue from email marketing increase by 23% year-on-year, with automated emails making up 3.5% of the company's overall revenue.
Astley Clarke was founded in London by Bec Astley Clarke MBE in 2007, to celebrate design, innovation and colour in fine jewellery. With a global website and growing customer base, the brand wanted to build out individual profiles based on product preference, likely spend and previous omnichannel online experiences, and so moved to the Emarsys AI-enabled cloud marketing platform.
Applying Emarsys' AI solutions to its CRM data means the brand can use individual customer profiles to tailor its omnichannel outreach to different customers. The emails are very personal, showing the jewellery they're most likely to be interested in, including items with relevant first name initials or star sign details, for instance.
They're also segmented by price, so someone who, for example, only tends to spend £100 on an item, won't be sent information on fine pieces, worth thousands. Furthermore, if the system identifies a customer hasn't shopped with Astley Clarke in over a year, their email will contain an incentive to come back.
"Our online marketing was quite basic before – nothing was automated or tailored, and we couldn't really see how well our subscribers were interacting with the content," says Emma Duff, head of ecommerce, Astley Clarke. "With Emarsys, we can collect and act on more information from our database, and allow them to tailor their content preferences. The Emarsys platform has been well-received, and email is our strongest revenue driver in the business."
The software has also helped Astley Clarke target likely present buyers through an option on the site which allows customers to 'drop a hint' to a friend or significant other if there's a piece of jewellery they would like. The information is captured by Emarsys and the AI platform automatically sends out an email to the present buyer, giving them the hint on what to buy as a present.
"Jewellery is a very personal thing, with one piece never fitting all. The best way to get the right items in front of the right customers is to understand them and then tailor your communication to each individual in their own right," says Grant Coleman, VP & market director, UK at Emarsys. "Astley Clarke is one of the UK's most vibrant jewellery brands and we're thrilled to be helping them grow revenues by targeting new and existing customers accordingly with the right products."
News Source : professionaljeweller.com