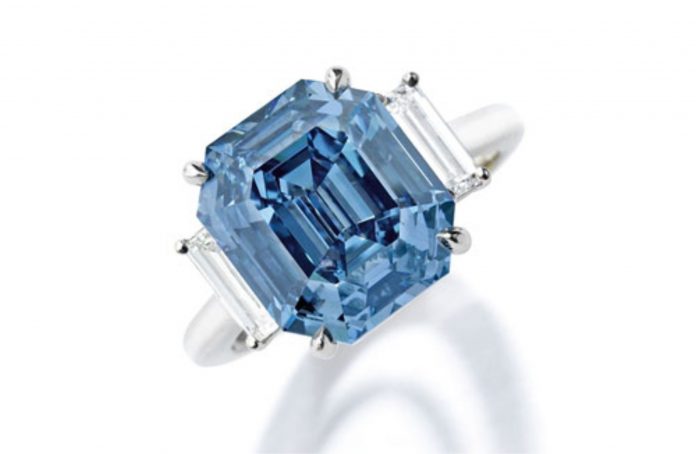 Coloured diamonds were in high demand at a series of auctions across the world over the past few days, with fancy vivid blues topping the results of two separate auctions in New York, and a fancy vivid yellow smashing auction records in Birmingham, London.
Sothebys reported that of the 211 lots up for sale at its New York auction on Tuesday, a 5.69-carat fancy vivid blue diamond was the top seller, being bought for $15.1 million, just over the higher limit of the estimated sale price. The price of the emerald cut diamond of VVS1 clarity translated into a per carat price of $ 2.6 mn.
Also among the best sellers were a fancy intense blue diamond of 2.05 carats mounted on a diamond ring, which sold for over $2.6 million (or above $1.29 mn per carat); and bracelets from Van Cleef & Arpels and Harry Winston in diamonds and blue sapphire, both of which sold well above their estimated sale prices.
Total sales were over $54 million, as 82% of the lots sold. However, what had been desicribed as the largest round diamond to ever be offered at auction, a 110.92-carat stone with VS1 clarity, with excellent polish, cut and symmetry failed to sell.
"The market continues to show its strength in coloured stones, with today's results driven by intense competition for important colored diamonds, sapphires and emeralds in particular," said Gary Schuler, chairman of Sotheby's Jewelry Division, Americas.
At another New York auction, conducted by Christie's on Wednesday, a ring by Graff Diamonds which features two fancy vivid blue diamonds was one of the top lots, selling for $ 12.6 million, well over the estimated price. The diamonds are pear-shaped, modified brilliant cut stones weighing 3.36 carats and 2.71 carats with VVS2- and VS1-clarity.
Meanwhile, across the ocean, headlines were made in London by another outstanding stone from Graff, a 43.59 carat Fancy Intense Yellow Diamond Ring selling for £1.1 million, which is said to be the most expensive item ever sold at Birmingham auction conducted by the 141-year old Fellows Auctioneers. According to the auction house, this was not only the top priced item at any a regional auction house this year, but was also the first seven-figure bid from a regional sale room since 2012.
The yellow radiant-cut diamond of VS2 clarity was the centre-stone of the ring and was set between two white tapered diamond shoulders at 1.62 carats in total.
Pic caption: The 5.69 ct fancy vivid blue diamond that sold at Sothebys New York
News Source: gjepc.org