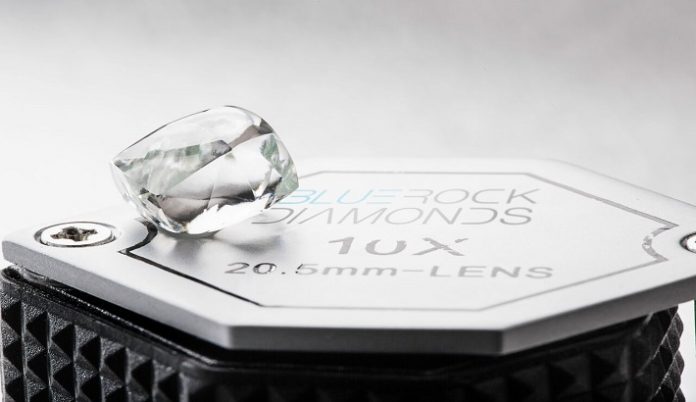 BlueRock Diamonds, which owns and operates the Kareevlei Diamond Mine ('Kareevlei') in the Kimberley region of South Africa, has reported a significant surge in both production and revenue for the quarter and six-month period ended June 30, 2019.
The Company said it achieved record production of 3,516 carats, four times more that in Q2 2018 (875 carats) during Q2, while processed tonnes rose to 78,759 tonnes, up 130% on Q2 2018 (32,247 tonnes). During the year to date (H1 2019), production was 4,936 carats (H1 2018: 2,438 cts) and processed ore was 120,426 tonnes (H1 2018: 73,028 t).
Similarly, BlueRock reported a record grade of 4.46cpht (Q2 2018 2.45cpht) with an average price achieved of US$ 430/ct on sales of 2,517 carats (Q2 2018, 875 carats sold at US$ 305/ct). For H1 2019, BlueRock reported a grade of 4.10cpht (H1 2018 3.34cpht) with an average price achieved of US$ 405/ct on sales of 4,365 carats (H1 2018, 2,419 carats sold at US$ 340/ct).
Among the highlights of Q2 was the sale of a 24.9 carat stone for a record US$ 190,000, which boosted tender revenue to US$ 1,082,000 (Q2 2018 US$267,000).
BlueRock Executive Chairman, Mike Houston, said, "I am very pleased with the impact that our new CEO at Kareevlei and his team have made. Whilst the management team is conscious that there are a number of milestones to reach if we are to bring real value to our shareholders, the improved grade and price per carat achieved in H1 2019 is a strong indication of the potential of the Kareevlei resource."
The Board also noted that the record levels of May and June were achieved without the benefit of the budgeted planned plant improvements and was largely due to the new management team introducing stronger operating disciplines, the extended working hours through the commencement of 24/7 365-day operations, as well as improved plant availability. Accordingly, the Board stated that it remains confident that the near term monthly production target of 40,000 tonnes is achievable and continues to expect that the Company will be operating profitably in the second half of 2019.
The Company reported that Kareevlei continues to deliver excellent quality diamonds, particularly in the plus US$ 1,000 per carat range. There were three notable stones in the 6-month period to 30 June and the latest 24.9 carat stone marked a step change in size and a further reflection of the potential of the resource.
The Board also said that its guidance for the next two years remains unchanged with production expected to reach 12,000 – 16,500 cts in 2019 and 16,000 – 21,500 cts in 2020. Expected grades are 4.25 – 5.0 cpht in 2019 and 4.25 – 5.0 cpht in 2020 while value per carat for both years is expected to be US$ 340 / ct.
News Source: gjepc