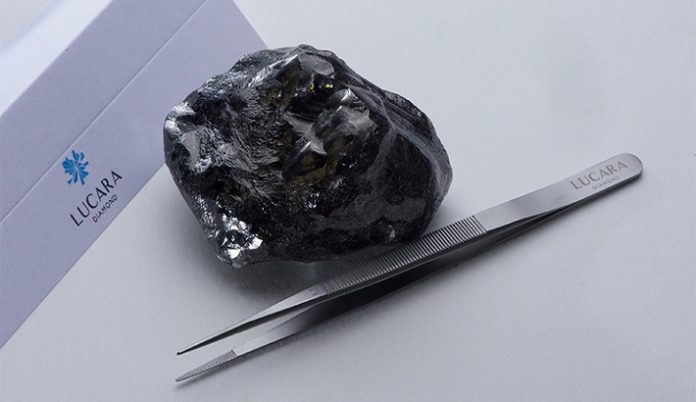 Letlhakane, Botswana—Lucara Diamond Corp. announced last Thursday that it found a 1,758-carat piece of rough at the same mine where it recovered the 1,109-carat Lesedi La Rona.
Discovered over Easter weekend, the huge stone is still being analyzed, but Lucara described it as being "near-gem of variable quality," meaning it is an industrial diamond with sections that could produce gem-quality stones.
The 1,758-carat is one of the largest rough diamonds recovered in recent history, and the second 1,000-carat-plus stone recovered from Karowe since 2015.
The largest known gem-quality diamond in history is the Cullinan, which was found in South Africa in 1905.
There has been a larger stone recovered than the Cullinan—the 3,167-carat carbonado diamond dubbed the "Carbonado do Sergio" discovered in Brazil in 1895. Carbonado diamonds are industrial-quality stones that are opaque and believed to be found only in Brazil and the Central African Republic, Stephen E. Haggerty, a research professor at Florida International University in Miami, wrote in the summer 2017 issue of GIA's Gems & Gemology.
Lucara recovered the huge stone using XRT (X-ray transmission) technology from Tomra Sorting Solutions, which designs and manufactures sorting equipment for the mining, food and recycling industries.
In the past, many large rough diamonds were crushed during recovery because De Beers, the main diamond miner at that time, did not have the technology to detect them and, to an extent, did not care, Gemological Institute of America Senior Analyst Russ Shor wrote in a 2016 research article.
Making money in diamond mining was about speed, he wrote, with the per-carat price differential between large (above 10 carats) and small diamonds not enough to make it worth De Beers' while to retool its processing.
(De Beers actually was the company that discovered the kimberlite pipe at Karowe in 1969 but never commercially mined the deposit. It sold its final stake in the site to Lucara in 2010.)
Today, large diamonds fetch huge sums on the global market so miners are putting time and money into technology that spares them.
Tomra's XRT is sensor-based bulk sorting that can pick out the diamonds even if they are coated, low-luminescent or Type II, the company says.
Lucara implemented XRT at Karowe in 2015 and, since that time, it said it has recovered 12 diamonds weighing 300 carats or more. Half of those dozen diamonds have been gem quality and sold for a total of more than $158 million.
This includes the 1,109-carat Lesedi La Rona, which turned up in fall 2015.
Lucara expects to keep finding large, high-quality diamonds at Karowe, noting: "Each deposit has a characteristic size distribution of diamonds … The vast majority of diamond mines have 'fine' distributions and host [very] few large/coarse diamonds, regardless of grade. The Karowe mine has a very coarse distribution of large diamonds, up to 5 times the world average."