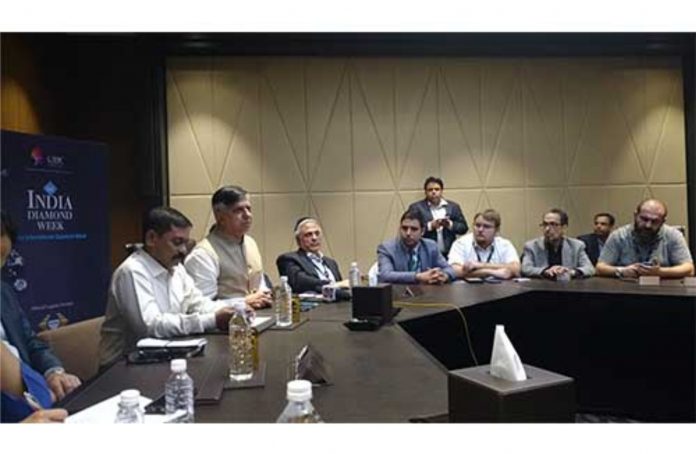 The first ever India International Diamond Week organised within the country by GJEPC has received a positive response from both buyers and sellers, with both sides expecting that in addition to doing some immediate sales, they will also forge many strong, long-term business relationships in the process.
As Reuven Kaufmann, President of the Diamond Dealers Club of New York, which has brought a nearly 30-strong contingent to the event, put it, "The GJEPC brought buyers and sellers together in a process they describe as 'speed dating' and 'matchmaking', but I can assure you that there are already quite a few 'marriages' that are being finalised in the trading halls."
The three-day event which has nearly 115 buyers from 11 countries interacting with 48 leading polished diamond manufacturers from India, concludes today in Mumbai.
GJEPC Chairman Praveenshankar Pandya said that it would be difficult to estimate the actual business that is being transacted at the Diamond Week, as the deals are being done directly between buyers and sellers. He also said that some business will be finalised subsequently, but will be based on discussions that started during this show.
Pandya however said that both the exhibitors and visitors have assured the Council that it has been a very positive event from the business point of view, and all of them are keen to participate in future such shows. "The timing is suitable for all the big markets – in the US the buying season is on and there is demand both for current needs and replenishment. With the Middle East having just completed a major festive season, and the Chinese New Year not too far away, even the delegates from these countries find this a good time to transact concrete business," he stated.
Speaking to the media, a cross section of buyers from different countries all opined that not only was the format perfect for doing serious business, but it also made immense sense for them to come to India and forge ties directly with manufacturers in the world's largest centre for manufacturing cut and polished diamonds.
The ambience in a structured event like this is extremely conducive, says Kaufmann, because buyers and sellers come face-to-face in uninterrupted one-on-one meetings. This is just not possible at a large global show, where there are such huge crowds that spending quality time together is just not possible.
He also adds that when buying loose diamonds from suppliers in the US there is always uncertainty about getting steady supplies as per one's client's needs. "Having ties directly with the manufacturers in a large centre like India, brings a certain stability to our businesses," he says.
Kaufmann concludes, "The delegation from the US is extremely happy with their visit and many of them are very hopeful that they can really build strong ties going forward."
Mehmet Can Özdemir, a member of the Board of the Turkish Jewellery Exporters Assembly, the apex body of trade in that country, also said that it has been a very fruitful trip for the 30-35 visitors from Turkey and the Middle East. "Buyers have been coming to IIJS, but as it is a really huge show, they often find it difficult to locate the exact type of goods they are looking for. This focused event is very satisfying, and we hope GJEPC will similarly bring Indian manufacturers directly to Turkey too."
Gurhan Temeltas, a Manager with Atasay Jewellery, one of the largest jewellery companies in Turkey agrees. "I have been coming to India every two months for the last couple of years, but this single visit has been more beneficial. When we buy diamonds in Turkey we have to choose from what is available, but by coming here I can work with the manufacturers and source exactly what I want."
He added that a show like this it is possible to better understand which sizes and cuts are readily available, and also compare prices across qualities quite simply. "Now, it will be easier to plan our jewellery production accordingly and order precisely what we require," he says with conviction.
Delegates from South Korea and from China agreed with the views expressed by others and said that direct contact with manufacturers also gave them some benefits in terms of price. Having met company representatives in person would make it much easier to continue to do business together using the internet or the phone, they agreed.
In fact, like their counterparts from the US and Middle East, they also confidently asserted that though it was their first trip to India, it would not be their last.
"Yes, seeing the positive response, we are definitely planning to make this an annual show in India, and also eplore the possibilities of doing Diamond Weeks in Turkey and some other countries on the lines of the shows we have already held in New York and China," said GJEPC's Pandya.
Once the format gets established, a few years down the line, GJEPC may also move the venue out of Mumbai to some other centres so that the visitors can combine their business trip with experiencing the scenic beauty of the country and the grandeur of some of India's historical sites, he promised.
Pic caption: A section of international buyers speaking to the media alongwith GJEPC representatives
News Source: gjepc.org