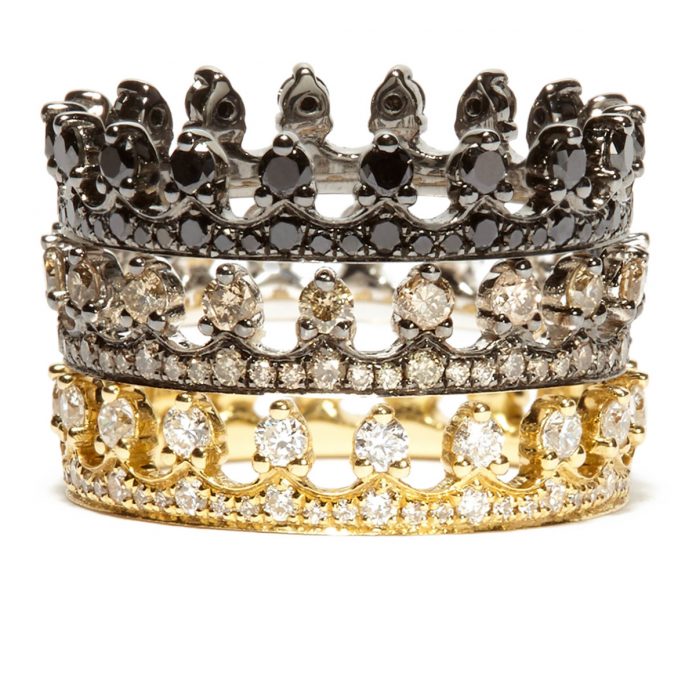 Fine jewellery designer Annoushka Ducas has unveiled her new Crown collection.
Launching in February 2017, Crown has been born out of the designer's desire to evolve the popular ring stack into a more treasured, feminine form.
The collection consists of five intricate crown-shaped rings in the following permutations – white gold with white diamonds; yellow gold with white diamonds; rose gold with brown diamonds; white gold with brown diamonds & white gold with black diamonds – all of which can be worn individually or in numerous different combinations. Possible combinations include: individually, back-to-back; interlinked and on top and either side of a flat stacking ring, with every incarnation creating a totally unique look and feel.
The Crown rings have been designed to interlink perfectly, and when worn facing each other the pieces create one striking diamond band.
"I am constantly adapting the way I wear my own jewellery and I wanted to create a collection which allows me the freedom to adapt my ring stack depending on my mood," Ducas explains. "It is so important to me that jewellery should be playful, surprising and fun and I feel that Crown really speaks to this spirit of irreverence that you can see throughout all of my jewellery collections."
She continues: "This collection is aimed at every woman – whether they are fashion-forward or more conservative; young or old. There is a ring or a combination of rings within the collection which speaks to every woman. The versatility of the collection is what makes it so appealing: with five rings you can create countless different looks depending on what look you are going for. It can be as rebellious or as classic as you want it to be."
The collection take inspiration from Ducas' travels through a small Gozitan town, where the designer found local women gathered on their doorsteps engrossed in the tradition of hand lace making. Holding up a swatch to the light, the shadow of the intricate design against her hand inspired Ducas to move away from the traditional blunt line created by a ring stack towards a more delicate and elegant alternative.
News Source : professionaljeweller.com