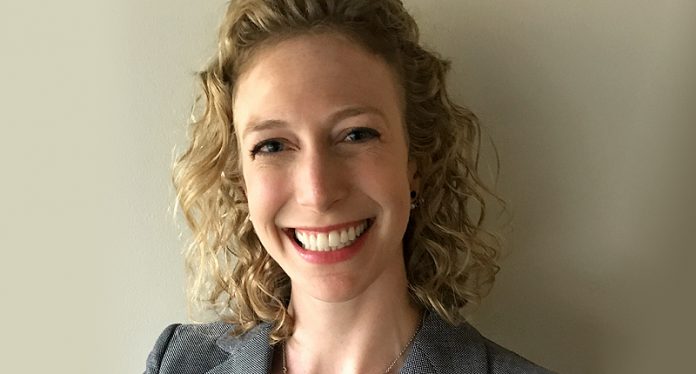 Earlier this month, Ben Bridge Jeweler made an announcement. The 93-store chain, one of three owned by Warren Buffett's Berkshire Hathaway, was appointing Lisa Bridge as president.
She is the first female president in the retailer's 100-year-plus history and, at 32, its youngest top executive in more than six decades.
After the announcement was made, National Jeweler caught up with Lisa on the phone to talk about the company's past, present and future.
This interview has been edited for length and clarity.
National Jeweler: When did the conversation about you becoming president–the first female president in Ben Bridge history–start?
Lisa Bridge: We've had a number of conversations over the last six or eight months about the direction of the business, and each of our key players and where we're going, and really looked at how I feel about the business, how deeply I believe in our vision and our incredible people, and wanted to be able to execute on that vision in a bigger way. You know we are owned by Berkshire Hathaway, so ultimately the decision of leadership is [up to] Warren Buffett.
NJ: And he is known for putting women in leadership positions. Susan Jacques was succeeded by Karen Goracke at Borsheims [another Berkshire Hathaway-owned jeweler], and you have Beryl Raff over at Helzberg.
LB: I'm very proud to join a very strong and impressive roster of female Berkshire managers. I'm glad to work for somebody who understands and appreciates the diversity of opinions and capabilities of all people. I'm really excited to work for Warren and to be a female leader.
NJ: The plan is that Jon Bridge is going to retire and Ed Bridge, the current president and co-CEO, is going to become chairman and CEO. Is Ed stepping back from the business?
LB: He'll still be very involved in the business and help me to make this transition. I have loved working with my family over the years. There is just nothing better than getting to have that shared vision, and I've loved going to lunch every day with my dad and brother [Marc Bridge] and talking about business. I think I've learned more from that experience than I probably could have in any business school, so to get to continue to work with my dad is really very exciting.
NJ: What is Marc's current title, and is that staying the same?
LB: Marc's current title is vice president of marketing. He has done a tremendous amount for the business and could not have been a better partner to me. And he's excited to go and pursue a new journey. He wants to build something of his own, and I'm excited to see what that is.
NJ: How do you feel about being the first woman president in company history and the youngest top executive in more than 60 years? How do you feel kind of taking on both those mantles?
LB: I think they are probably bigger than I care to think about, I suppose. But one of the things that I love about our company is that each generation has turned over the business relatively early on to the subsequent generation and allowed them to have responsibility and to evolve the business.
Ben [Bridge, the company's namesake] turned over the business to his two sons, to my grandpa and my great-uncle, when Ben was 59 and Bob and Herb were 23 and 29. Each of them turned the business over to John and Ed when they were 59, and so the business has continued to evolve because of that.
When my grandpa was running the business, there was a time we were selling room dividers and typewriters. We started as a watchmaker, really pocket watches in that era.
We've had different moments in time and have evolved and changed, which is even more important today than ever before. The world has changed so much.
NJ: I want to talk about that next. You're obviously very aware, because you're on the ground level of retail, of how much it has changed. What do you see in 10 years for Ben Bridge? Do you see having the same amount of stores, fewer stores, smaller-format stores?
LB: I think you see certain shopping centers are very strong and are bringing customers in and creating an experience for them, and others less so. And so we've looked over the last few years at which locations and where our stores make sense, and we'll continue to look at that.
We'll also continue to invest.
We've brought in a new ad agency to do a branding study, looking at who Ben Bridge is and how are we perceived in the marketplace.
We're working with a new architecture firm to redesign our stores, so next year we'll have our first new concept store that's going to be more engaging and interactive, and have different moments throughout the store to connect with customers who are looking for different types of merchandise.
NJ: Very cool. Where will that be and when will it open?
LB: Just south of Seattle, at South Center. We're set to open the very end of June or beginning of July.
We're also working on our back-end infrastructure. We're doing a major overhaul on the technology side, making a major investment there to be able to enable everything that we want in terms of the business analytics and the omnichannel experience–how our customers interact with us, how they discover us and how we're able to continue to build that relationship.
NJ: You mentioned earlier in the conversation that you've been working with a branding agency to look at how your brand's being presented, what the Ben Bridge brand represents to the consumer. Are you able to share any key insights?
LB: One of the things that was very gratifying [in the agency's study] was that our customers who have shopped with us love us and recognize that our experience is different. We also realize that we have some opportunity, that there has not been very much differentiation for customers who haven't shopped with us. Customers don't necessarily know why one jeweler is different from another, so there's a really great opportunity there to tell our unique perspective on jewelry and where we are in the marketplace.
NJ: I'm going to ask a broader question now. What do you think is the biggest challenge facing the industry? It's a question a lot of people seem to have, and nobody has an answer. Is it that millennials don't have money to spend on jewelry? Is it that they prefer other things over jewelry? Or is jewelry not in front of them enough?
LB: I think as an industry we need to do a better job of telling our unique stories and making sure that our product is desirable and relevant. People have been adorning themselves for thousands of years, and that desire for adornment and desire to celebrate moments continues. That's not changing with this generation or the next one. But how they buy and why they buy and where they buy does shift.
We just need to make sure that we are creating merchandise that is inspiring and connects and telling the stories of why they should want this jewelry. Why is this diamond incredible and why is it contributing to tremendous good around the world? What is the story of this timepiece, how is it made and who designed it? There are really wonderful stories that I'm not sure we've done a great job of telling. I think we often are on the defensive, rather than the offensive, in telling our stories as an industry.
NJ: What independent jewelers are going to be around 10 years from now?
LB: I think people who are taking care of customers, who are building relationships, who have a unique point of view and are building memories. Whether it's in their store or with their jewelry, I think there's a place for that jeweler. We have to make it dynamic and interesting and desirable. You see people who want to have a relationship and who want to find a beautiful piece of jewelry. We have to help them do that.
NJ: Is there anything else you'd like to add?
LB: We have the most incredible associates. They are passionate and knowledgeable, and I'm just deeply honored to represent them and to lead them. I'm really excited to see where this journey takes all of us.
News Source: nationaljeweler.com