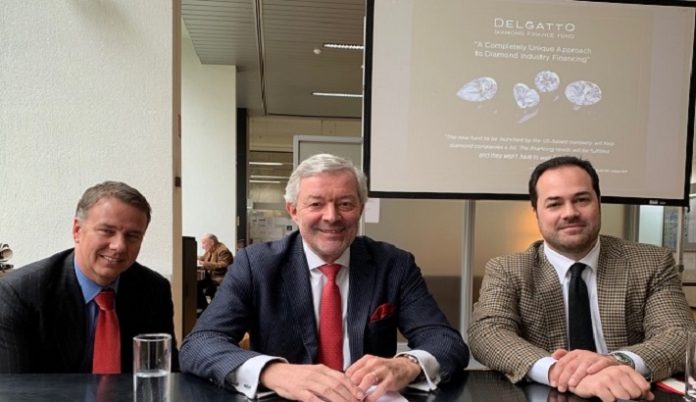 The Delgatto Diamond Finance Fund held a well-attended roadshow at the Antwerp Diamond Club on January 28, presenting its range of asset-based financing programs for the diamond and jewelry industries.
There was strong interest in its flexible financing options for the diamond industry, particularly in light of the withdrawal of banks from the sector.
US-based Delgatto offers immediate loans based on companies' diamond inventory.
Delgatto provides diamond firms with collateralized loans and a means to sell excess inventory.
Company founders Chris Del Gatto and R. Andres Lucas (pictured above either side of Pierre De Bosscher) stayed in Antwerp until January 30 where they met privately with companies. De Bosscher, the former CEO of the Antwerp Diamond Bank, has joined DDFF as a European Director.
"The trip was very successful," said Lucas. "A few things that really stuck out was that companies, both large and small, have all agreed and come to the realization that alternative financing is the future of our industry. The commercial banks have left, or are leaving, and companies need to have support.
"We closed a number of deals within a few days for fairly significant numbers and the companies were extremely pleased to get such quick financing. We had requests for financing from over 20 companies which is amazing for this first market outreach. We are excited to actively support the Antwerp trade and continue to build partnerships with the many wonderful companies there."
NewsSource: idexonline