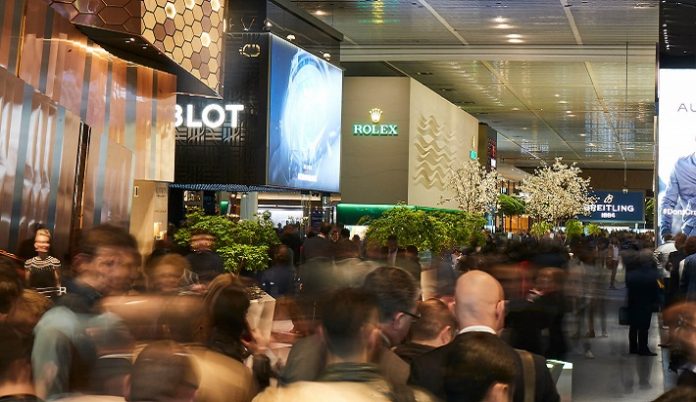 The Italian brand confirms its path in the worlds of Watchmaking and High Watchmaking as well as Jewellery and High Jewellery.
Baselworld will welcome the Dolce & Gabbana Group as an exhibitor in the prestigious Hall 1.0. By participating in the show, the Italian designers Domenico Dolce and Stefano Gabbana continue to communicate their passion for craftsmanship in the watch and jewellery industry.
Michel Loris-Melikoff, Managing Director of Baselworld said: "We are delighted to welcome Dolce & Gabbana to Baselworld and to start working together. We are embarking on a creative process that will allow Dolce & Gabbana to express not only its uniqueness to the 80,000 expected visitors, but also to benefit from the program we are putting in place to keep the international community alive throughout the year, digitally and physically. Because this is precisely our vision of a platform of experiences: enabling brands to be unique in their presentation to their various audiences while benefiting from the networks and powerful audience of Baselworld."
"We tiptoed into the watch and jewellery industry knowing it wouldn't be easy," says Domenico Dolce. "The work of researching was long and hard, but it was worth it. It is a very fascinating world in which we have brought our values: the love for craftsmanship, the art of handmade, the attention to detail and the scrupulous choice of materials."
Stefano Gabbana: "This world represents an exciting challenge. Every goal we've achieved has taught us that there's always more to learn, that nothing is impossible when it's passion that drives everything. Today, we are happy to take part in this important international event."
It is the first time that the Italian Group and its international management will be present at the fair with the new jewellery and watch proposals, resulting from years of research and technical development, and with the unique creations from the Alta Gioielleria and Alta Orologeria Collections. Dolce & Gabbana has already participated in Baselworld in the past, but through a licensed partner for the watch and jewellery collections created for a young audience.
Synonymous with Italian savoire faire and Sicilian tradition, creativity, audacity, allure, hand-made ornaments, fine engravings and chisels, original inlays, extravagant settings, a singular vision of time through limited series and unique pieces, an atypical reinterpretation of the codes of elegance while cultivating traditional know-how, Dolce & Gabbana presents High Jewellery and High Watchmaking creations whose inspiration is drawn from innovation combined with the many references of the Mediterranean heritage of its origins and the engineering accuracy of Swiss mechanisms, as with its own proprietary movement entirely assembled by hand by the master watchmakers of Geneva.
Alfonso Dolce, CEO of Dolce & Gabbana said: "Baselworld will be an accelerator for our business. Michel Loris-Melikoff and his team were able to listen to our needs by proposing an innovative concept that corresponds to our ambitious development strategy. We are very pleased to join the world's largest trade show and the largest, broad and unique global community platform, and we will be exploiting every opportunity to take advantage of it."
About the Dolce & Gabbana Group
Dolce & Gabbana is creativity, style, craftsmanship, Beauty, uniqueness and culture.
Founded in 1985, Dolce & Gabbana is a leading international group in the fashion and luxury sector that creates, produces and distributes high-end clothing, leather goods, footwear, accessories, jewellery and watches. Dolce & Gabbana's creations across all product categories are the result of fine craftsmanship and manufacturing art with deep roots in the history of the Made in Italy.
The vision and the will of the founders, Domenico Dolce and Stefano Gabbana, guaranteed the Group total independence, and allowed, over the years, to maintain direct control of all the creative, production and distribution processes in order to assure quality, excellence and uniqueness.
The brand is present in the Prêt-à-porter segment with Men's, Women's and Children's collections across all product categories, and in the High-end segment with the one-of-a-kind creations of Alta Moda, Alta Sartoria, Alta Gioielleria and Alta Orologeria Collections.
The only activities entrusted to licensee partners are the production and distribution of Eyewear (Luxottica) and Beauty lines (Shiseido).
About Baselworld
Baselworld is the most important experience platform for the global watchmaking, jewellery, gemstone and related industries. Building on a tradition started over a century ago, Baselworld has become the annual must -attend trade show where discerning buyers, influential media and savvy connoisseurs unite as a communi ty to discover and experience new trends and innovations showcased by top brands first-hand and share these globally.
Now under new management of Michel Loris-Melikoff and his team, Baselworld is poised to become a global event brand that is building a new year-round dynamic – digitally, socially, experientially – for these industries around the world.
Baselworld is organized by MCH Group, a globally leading live marketing company – headquartered in Basel (Switzerland) – with a comprehensive services network spanning the entire exhibition and event market. It owns and operates the exhibition centers in Basel and Zurich. It organizes around 40 exhibitions in Switzerland and abroad, including Art Basel in Basel, Miami Beach and Hong Kong. The companies in the segment of "Live Marketing Solutions" are present all over the globe and offer customized marketing solutions in the areas of strategic and conceptional consulting, marketing consulting, event management and exhibition and event structures.