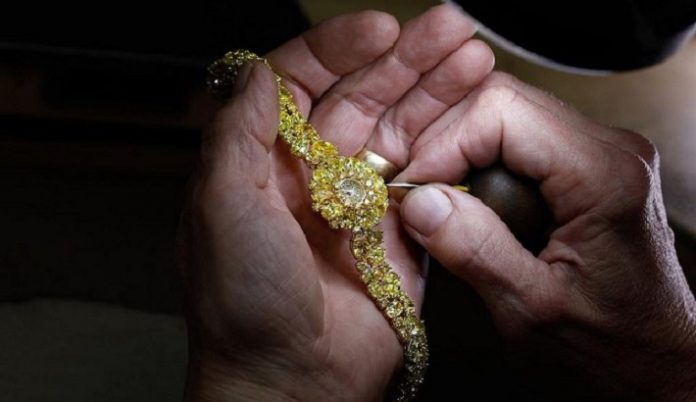 With the 2019 edition of Baselworld getting underway Thursday, Graff Diamonds have revealed two of the three Fancy Vivid Yellow Diamond watches to be showcased. Yellow diamonds are extremely rare, so it takes patience – and good contacts – to collect enough to set them in a timepiece or a piece of jewelry; it can take years to source enough stones of the same color, intensity and size. Each watch is built in 18-karat yellow gold to underscore the brilliance of the watch's diamonds, and each features round and fancy oval diamonds that are meticulously set by hand.
The "Round Graff Fancy Vivid Yellow Diamond watch" is set with 211 diamonds weighing 59.25 carats. The "Graff Fancy Vivid Yellow Diamond Watch" is set with 60 diamonds weighing 25.85 carats. Both watches house Swiss-made quartz movements, so the allure is clearly focused on the jewelry aspect of the timepieces. The third yellow diamond watch will only be revealed at BaselWorld. The watches are a joint effort between the Swiss-based Graff Luxury Watches and Graff London's high-jewelry atelier. Since its founding in 1960 by Laurence Graff OBE in London, Graff has been creating diamond works of wearable art that are nearly unrivalled in quality and stone rarity.
The prices of the timepieces have not been disclosed, but if one is in the market for such a piece, consider yourself forewarned: in 2014, the jeweller created the Graff Diamonds Hallucination, a women's watch covered in a kaleidoscope of diamonds and priced $55 million, which might be the most valuable watch ever created. It included 110 carats of extremely rare and large colored diamonds set into a bracelet of platinum. The watch featured diamond colors: Fancy Vivid Yellow, Fancy Intense Pink, Fancy Intense Blue, Fancy Light Pink, Fancy Light Grey Blue, Fancy Intense Blue, Fancy Green and Fancy Orange.