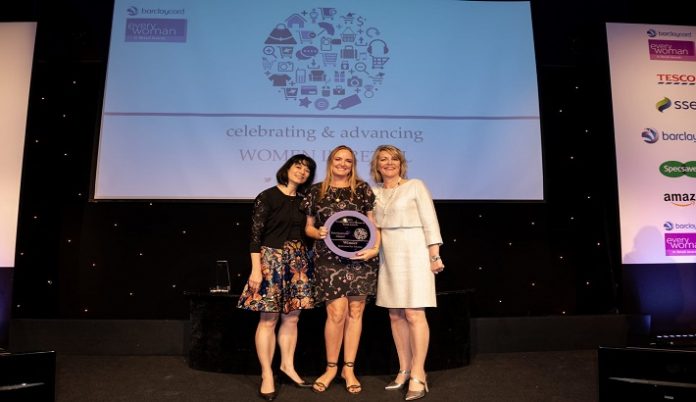 Marisa Hordern, founder and creative director of fashion jewellery brand Missoma, was honoured at the 2019 Everywoman Awards.
The winners of the 2019 Barclaycard everywoman in c were announced at a ceremony in London attended by hundreds of business leaders from UK's leading retail brands.
Seven inspirational winners were selected by a judging panel of industry heavyweights including senior women from Barclaycard, Specsavers, John Lewis and Hotel Chocolat.
Choosing from 23 finalists, the judges recognised outstanding women and men whose roles and businesses reflect the changing face of today's retail industry and the ways it has evolved to encompass a wider range of career opportunities than ever before.
In the course of their deliberations, the judges discovered individuals who are making the connections between customer experiences and employee engagements, entrepreneurs channeling the power of social media to grow their businesses, and those who go above and beyond to engage others in retail careers, becoming influential role models within the sector
On the night Missoma's founder won the Entrepreneur Award, sponsored by Amazon.
Maxine Benson MBE, co-founder of Everywoman, says: "Marisa seeks to empower the next generation to work hard through collaboration and inspirational leadership.
"The judges were impressed by how she went from making jewellery at the kitchen table with a full-time job to creating a profitable business."
The overall Woman of the Year was awarded to Alice Boaten, regional manager at Argos, London.
Other category winners for this year include the founder of a fast-growing fashion brand, as well as women who spearheaded the most complex operations at some of the country's largest retailers, such as Gap. Also celebrated was a Rising Star at the beginning of her career who has already contributed to unprecedented increases in sales, and a Male Mentor who was honoured for his work in actively supporting the advancement of women in the sector.
Benson continues: "This year's winners showcase the inspiring female talent within the UK retail sector and the individuals that are changing the face of retail. It is clear to me that as the industry evolves, so must the role models we celebrate and this year's winners are from some of the most diverse businesses, roles and career paths that we have ever seen.
"With an uncertain future for the high street and the evolution of new retail platforms and business models, the future of retail is a no doubt a challenging one, but also an exciting one to be a part of. Both everywoman and Barclaycard were impressed with the dynamism and passion for the industry displayed by each and every winner during the judging process. We are confident that the stories for this year's winners will inspire the next generation of female talent into a career within retail, while continuing to act as inspiring role models for their peers."
This is the second accolade Missoma has received in September, with the brand also scooping the 'Excellence in Ecommerce' trophy at the Sunday Times SME Export Track 100 Awards
New Source : professionaljeweller