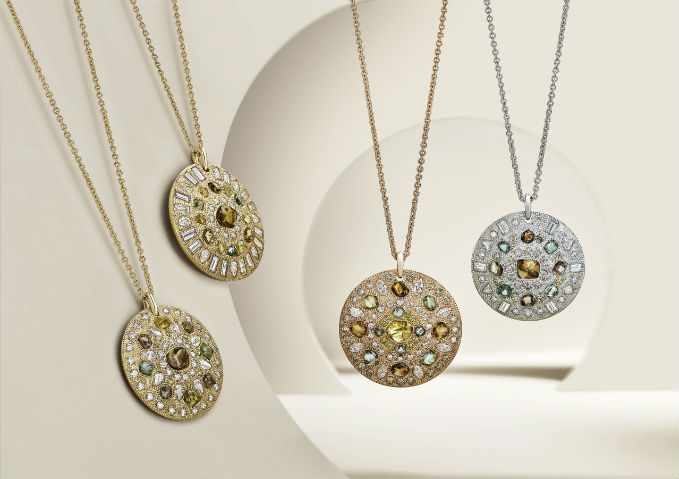 Diamond jeweller De Beers recently unveiled four new, one-of-a-kind designs in the iconic Talisman Collection. The pieces emulate the enchanting power of nature's seasons, with each Talisman medal reflecting the essence of spring, summer, autumn and winter.
"Constant, yet ever-changing, the four seasons are an eternal reminder of forces bigger than ourselves. While changes in temperature, from fiery hot to ice cold, have raged on the surface for millennia, diamonds have remained steadfast below the ground," De Beers said. "This mysterious natural contrast mirrors the iconic design in the signature De Beers Talisman Collection, where untouched rough diamonds are set alongside peerless polished diamonds."
De Beers Talisman Four Seasons draws on the unique identities of each season, presenting individual combinations of fancy-cut polished and rough diamonds set in white, yellow and rose gold that evoke the journey of a flower from the warmth of spring to the cold of winter. Each Four Seasons medal features the collection's iconic serti poinçon setting technique to offer a beautifully feminine expression of each season.
The De Beers Talisman pioneered the use of untouched, rough diamonds in fine jewellery when the collection was first launched in 2005. The pieces feature De Beers' signature serti poinçon technique, which draws on the exceptional skill and technical precision of its diamond experts to lift each diamond above the surface of the precious metal, thereby enhancing its light-reflecting sparkle.
"Only one in every 1,000 rough diamonds is considered to have enough character and beauty to be placed in a De Beers Talisman creation. This passion for peerless diamonds in all their shapes and colours is why we are, and will continue to be, the Home of Diamonds since 1888," noted De Beers.
News Source: jewellerynet.com