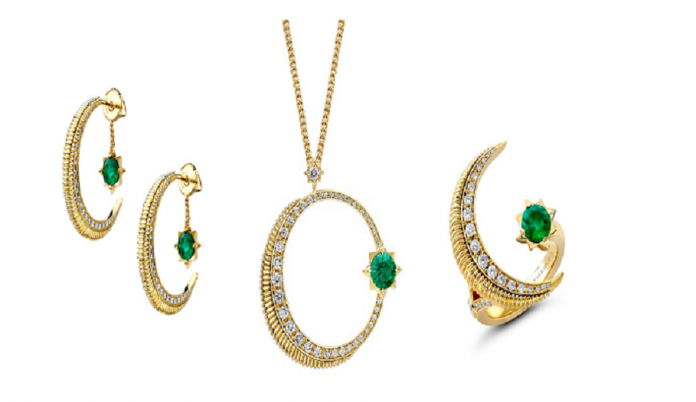 Luxury jewellery house Fabergé has added the Crescent collection it its portfolio.
The new line explores the adventure and romance of the eternal moon, as inspired by a Fabergé client.
Using the motif as a symbol of love, Fabergé has created a pendant, ring and earrings set based on the story of a secret agent.
The brand explains: "These hand-crafted pieces are inspired by an enchanting story that takes us back in time. In the early 1960s, a mysterious former French secret service officer, Charles Antoine Roger Luzarche d'Azay, gave his collection of 18 exquisite Fabergé cigarette cases to the Musée des Arts Décoratifs in Paris. Years later, friends of M. Luzarche d'Azay explained that Charles had been desperately in love with the glamorous French aristocrat Princess Cécile Murat – who was already married.
"Fabergé was inspired by his devotion and by the enigmatic symbols that decorate the cases, including crescent moons and a golden map of the Nile with coloured gems marking cities along its course."
Curators are still unsure as to the symbol's meanings. Does the crescent moon symbolise midnight trysts or covert adventures? Fabergé prefers to leave those questions unanswered and to celebrate the crescent moon as a symbol of beauty and devotion, while the emerald has long been associated with eternity, the heart and the renewal of love.
The Crescent Collection is notable for its delicate patterns and workmanship, with elegantly detailed, fluted 18ct yellow gold crescent moons, picked out by a line of diamond pave with a sparkling emerald star nestling in the new moon's curving arms.
The Fabergé Crescent launches this month
New Source : professionaljeweller