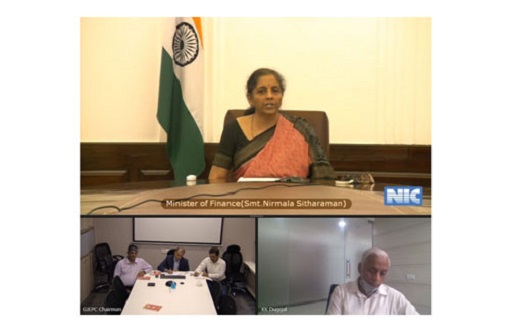 GJEPC chairman Colin Shah, vice chairman Vipul Shah, and executive director Sabyasachi Ray held a video meeting with the Hon'ble Finance Minister, Smt. Nirmala Sitharaman, on 6th July, and made a presentation on the critical issues concerning the gem and jewellery industry with the Finance Ministry.
She was surprised that issues like allowing sales in the Special Notified Zone (SNZ) have not been addressed so far, defeating the very purpose of setting up an SNZ. Likewise, for GST-related issues, she said that these matters need to be taken up in the meeting of the GST Council, and should be strongly pursued by GST Council members from Maharashtra and Gujarat.
Smt. Sitharaman appreciated the focussed presentation on the gem and jewellery sector made by the chairman and assured to look into all the points raised. She requested for a copy of the presentation to be submitted to her Addl PS, Mr. Vivek Singh. The Finance Minister informed GJEPC that she will hold a Review Meeting with concerned secretaries and senior officers after 15 days to address the issues raised.
The meeting ended with the chairman thanking the FM for her valuable time and her interest shown in the gem and jewellery sector. The chairman also appreciated the Finance Minister's directive for a Review meeting after 15 days.
News Source : gjepc.org