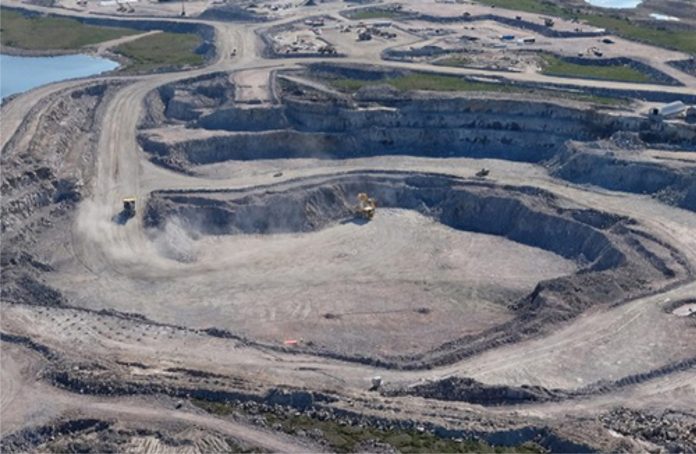 The Gahcho Kué Mine in Canada, the latest diamond mine in the world to go on stream, has produced more than five million carats in the first 10 months of 2017, surpassing the 4.5 million carats that it was forecast to produce on an average annually, Mountain Province Diamonds announced in a release yesterday.
A joint venture between De Beers Canada (51% – the Operator) and Mountain Province Diamonds (49%), the mine began commercial production earlier this year.
The mine has reported higher than expected recovered diamond grade of 2.07 carats per tonne through the first nine months of this year.
Over the last year, it has also been the recipient of numerous national and international awards for safety, project and operational management, including being named one of the top three projects globally, from a list of 56 entries worldwide, for the Project Management Institute's Project of the Year Award Gala in Chicago, IL.
De Beers Canada CEO Kim Truter says much of the early success can be attributed to the tremendous project phase that set the mine up with the right technical, safety and economic cultures. He said, "Having the right team in place for the project phase allowed us and our contract partners to build the mine ahead of time and on budget, no easy feat for a remote operation located on the edge of the Arctic Circle."
David Whittle, interim President and CEO of Mountain Province Diamonds, added: "The safety and operating performance at Gahcho Kué has been excellent and we congratulate our operating partner on achieving the 5 million carat milestone well ahead of our original plan."
Gahcho Kué General Manager Allan Rodel, said, "The operational maturity of the team across the mine so early into commercial production is impressive and has positioned Gahcho Kué to build on this momentum as we prepare for another big production year in 2018. We are also very proud of our strong safety record and environmental performance over this time as well."
News Source: gjepc.org