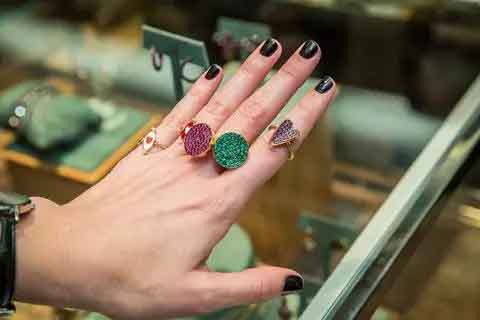 Gemfields

reveals findings of a recently conducted study among consumers on colored stone buying habits and preferences.
The supplier of responsibly sourced rubies and emeralds sought to gauge the "size of the market and better understand consumers' beliefs and perceptions about the value, price, and use of precious gemstone jewelry," according to a release. Study participants included 4,000 consumers between the ages of 21 and 64 who have purchased or received jewelry containing a precious colored gemstone within the last two years.
"As we steadily increase our offering of colored precious gemstones to the U.S., it is crucial for us to have an accurate picture of market, as well as its potential," Sally Morrison, director of sales and marketing for Gemfields, told the media this week.
Top-line findings are presented below.
• Some 31 percent of U.S. women acquired jewelry containing a ruby, emerald, or sapphire within the previous 24 months.
• Some 41 percent of millennial women obtained jewelry containing a ruby, emerald, or sapphire within the past two years.
• Millennials are nearly twice as likely to use social media and mobile devices to conduct their jewelry research versus non-millennials.
• Some 43 percent of women who own colored stone jewelry wear their rubies, emeralds, or sapphires daily, while 24 percent wear pieces at least once a week. (Only 7 percent indicated that they limit wearing to special occasions.)
• About 38 percent of U.S. consumers who purchased or acquired precious colored stone jewelry in the past two years actually acquired two pieces. (Some 15 percent acquired three pieces and 10 percent acquired four or more pieces. Color and clarity were the most important purchase attributes, even more important than carat weight, while the stone's country of origin was a less influential factor.)
• The average price for a piece of jewelry with precious colored gemstones is $1,386. (Though for men making the purchase or for those who identify as affluent, the prices rises to $2,048 and $2,499, respectively.)
• Half of all U.S. consumers who have purchased precious colored stone jewelry in the last two years and two-thirds of affluent households (with incomes exceeding $100,000) say they are likely to buy another piece in the next year.
News Source : JCKonline.com