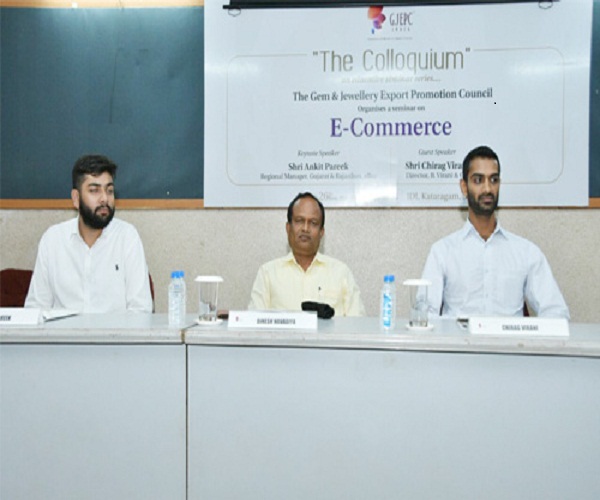 The Gem & Jewellery Export Promotion Council (GJEPC) Gujarat Region conducted a seminar in Surat yesterday focused on E-commerce and the use of digital platforms to enhance business.
The seminar was addressed by Ankeet Pareek, Regional Manager, eBay for Gujarat and Rajasthan, Chirag Virani, executive director of B. Virani & Co and Dinesh Navadia, Chairman Gujarat Region of GJEPC.
Introducing the theme for the seminar and welcoming the speakers, Navadia said those present would benefit from the session.
Pareek introduced the concept of ebay as an online marketplace where individuals and companies could do business and gave a detailed presentation on the opportunity that exists in the space. He further explained how those interested could commence online retail exports, including details such as the process flow, cost structure etc.
While elaborating on how the gem and jewellery sector could take advantage of the digital space and platforms, Virani spoke about the scope for growth from a business perspective as well.
More than 120+ trade members participated in the seminar.
News Source:- gjepc.org