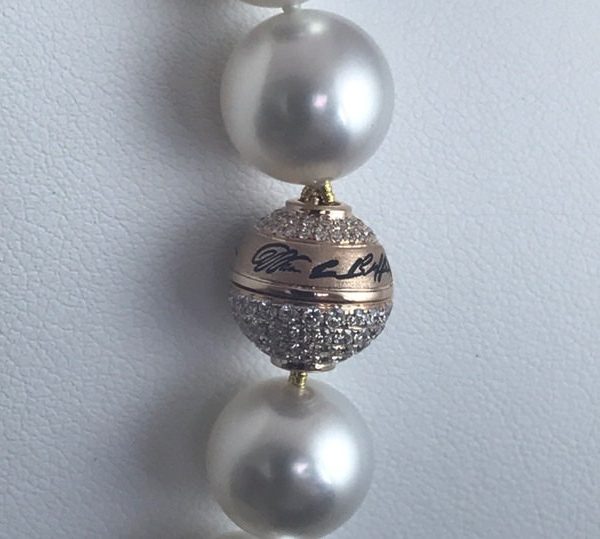 At this weekend's Berkshire Hathaway shareholder meeting, attendees could keep a piece of the company's founder close to their heart by snapping up Warren Buffett–autographed diamonds, pearls, and pens.
The limited-edition items were sold at the event's opening cocktail party, which was held, as it is every year, at Berkshire-owned jeweler Borsheims. The items with the Oracle of Omaha's John Hancock were all hot sellers, the retailer reports.
The shareholders "love all things Warren Buffett," said Karen Goracke, president and CEO of Omaha, Neb.–owned Borsheims, in a statement. "We were not surprised they were buying up all things 'Warren' and finding lots of tangible ways by which to remember their trip."
While Borsheims has offered a $15 ballpoint pen featuring Buffett's signature for a few years now, this year it stepped it up with a Mont Blanc rollerball pen featuring Buffett's signature engraved on the barrel. It sold for $246. All but one were purchased by the party's end.
Also new: Pearl stands, both white and multicolored, with Buffett's signature engraved on the clasp, adorned with diamonds (pictured, right).
The Buffett-signed loose diamonds (pictured below) have been offered since 2014. Buyers can have them set in a ring, stud earrings, or a pendant necklace, though some buy them loose and have created collections. All the diamonds are part of Borsheims Signature Diamond collection, which is mined and polished in Canada.
Though the Buffett-signed pieces were the headline items, Borsheims also sold an assortment of Berkshire-theme knickknacks, including Berkshire-branded money clips and cuff links, nail polish in Berkshire's signature colors of burgundy and silver, and a candle that smells like the Borsheims store, according to the Omaha World- Herald.
(Images courtesy of Borsheims; Pearls from Tara Pearls)
News Source : jckonline.com