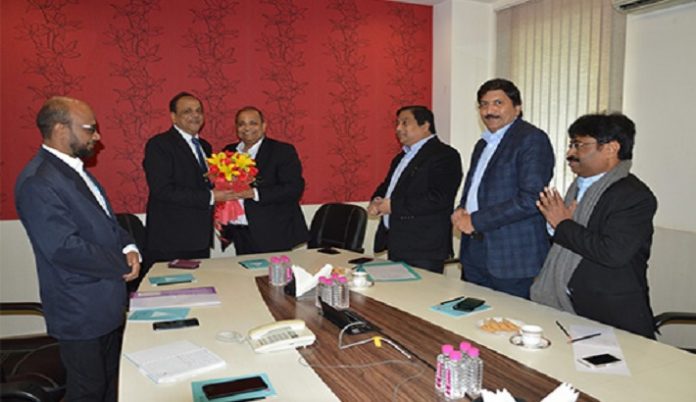 On December 31, 2019, a delegation of The Gem & Jewellery Export Promotion Council (GJEPC), led by its Chairman Pramod Kumar Agrawal met with the Chairman of MMTC Ltd, Ved Prakash, who was accompanied by Vikram Meena, CGM In-charge, MMTC, Jaipur Regional office, in Jaipur. Other members of the GJEPC delegation included: Nirmal Kumar Bardiya, Regional Chairman, Jaipur; Rambabu Gupta, Convener, Silver Jewellery Panel; and Sanjay Kala, Member, Regional Committee, Jaipur.
Several important issues related to both gold and silver were taken up at the meeting, a few of which are elaborated upon below.
Amongst the main points highlighted at the meeting, one was for MMTC to start supplying duty free precious metal in smaller denominations – viz. 100 gram bars of gold and five kg bags of silver granules — to the exporters in both the SEZ and the DTA.
This, members of the GJEPC pointed out, would make it easier for exporters of the MSME sector to procure duty free gold/ silver from MMTC to fulfil their orders; which, in turn, would make these companies more competitive in international markets.
In response, MMTC informed GJEPC that duty free gold is already being supplied in 100 gram bars at the Jaipur SEZ; and assured that it would be similarly made available to the exporters in DTA, on demand. MMTC Chairman further assured GJEPC that silver would also be made available in smaller quantities for exporters.
It was pointed out that the cost of silver supplied by MMTC is higher as compared with the silver imported directly by SEZ and DTA Units. Accepting the observation, MMTC said that if their long pending demand for permission to procure duty free precious metal from FTWZ against transit bond for warehouse and further supply in SEZ is given, then the cost of silver would be as competitive as direct import. A representation for this is pending with the DGEP which has received positive recommendation from DC, Shree City, Tamil Nadu; DC, NSEZ and DoC. The Council was requested to pursue the matter with DGEP and DoC.
The GJEPC team also raised the matter of the long time taken by MMTC to release bank guarantee/security of exporters, after submission of proof of exports. The Chairman MMTC was requested to assign more staff in their Jaipur office in order to help in clearing the back log.
MMTC was requested to start importing rough precious and semi precious stones for further supply to MSME units, who can cut & polish the same for trade or exports. Further, it was also requested that a dialogue be initiated with various State Governments having gemstones deposits in their states for allowing mining of these gemstones by MMTC or others. Chairman MMTC, assured that they would start working on the said proposal.
The GJEPC suggested that MMTC make efforts to promote and market jewellery manufactured in various gems and jewellery clusters of India, through their retail shops. In response, MMTC noted that a recent amendment in the provisions of GST, required a PSU to deposit TDS on the value of goods being taken on delivery challan. As a result, MMTC is finding it difficult to take goods on approval basis, and had to buy them on full payment, inclusive of GST. And, if these goods were not sold, they would be dead stock, leading to capital blockage. MMTC requested Council to help in resolving this GST related hindrance for which it was proposed a representation be submitted.
The MMTC Chairman also requested Council to pursue the Government to allow Nominated Agencies owned by the Government to export coins and provide gold on loan for DTA units on the lines of schemes offered by banks.
Pic caption: GJEPC Chairman Pramod Kumar Agrawal greets MMTC Chairman Ved Prakash in the presence of other members of the delegations from both organisations
News Source: gjepc