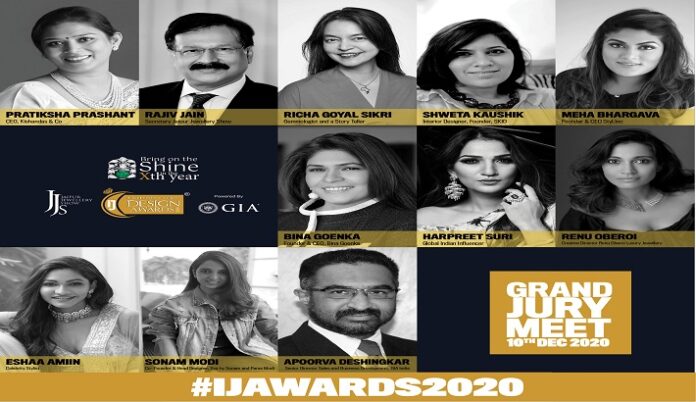 These Awards celebrate jewellery design talent from across India. Over the years, we have had reputed jury members from fields of design, gems and jewellery, architecture, art, fashion, etc. This year too, we have eminent personalities, who will be judging the jewellery pieces.
The grand jury meet will be held on December 10, 2020. The jury panel consists of experts from gems and jewellery, social media, fashion and styling, design, and beyond, ensuring that each piece of jewellery is viewed from different perspectives. The jury panel includes: Bina Goenka, Founder & CEO, Bina Goenka; Renu Oberoi, Creative Director, Renu Oberoi Fine Jewellery; Eshaa Amiin, Celebrity Stylist; Pratiksha Prashant, CEO, Kishandas & Co; Shweta Kaushik, CEO & Founder, SKID Interior Designing firm; Richa Goyal Sikri, Gemmologist & Story Teller; Rajiv Jain, Secretary Jaipur Jewellery Show; Apoorva Deshingkar, Senior Director Sales and Business Development, GIA India; Meha Bhargava, Founder & CEO, Styl Inc, Wedding Stylists and Personal Shoppers; Harpreet Suri, Global Indian Influencer fame Momwearsprada and Sonam Modi, Co-Founder & Head Designer at SVA by Sonam & Paras Modi.
This year, we have received over 500 entries from 24 cities all across India of which 104 entries from 20 categories have been shortlisted. Winners will be awarded as part of a virtual ceremony on December 27, 2020.
The Xth edition of the JJS-IJ Jewellers Choice Awards is a virtual tribute to artisans of this great nation and their art of bringing to life the imagination of topmost jewellery designers. This is 'THE' platform for the 'best of the best' to showcase their design potential, an opportunity for them to let the world know their creative process. Our panel of expert judges will rank the best designs based on several important parameters drawn up by them based on their experience and expertise in this field.
Powered by GIA, the IJ Awards is presented by JJS. The other partners include: Hari Krishna Group as the Diamond Jewellery category partner, BVC as the logistics partner and MirrAR is the virtual try-on partner; while Diamond World magazine is the Media Partner.
News Source : indianjeweller