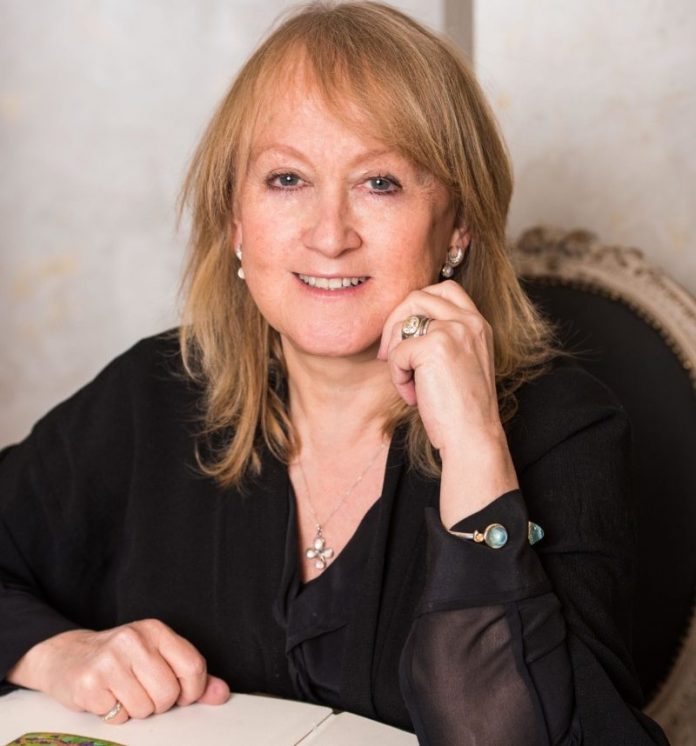 Dr Barbara Tipple is one of the most accomplished jewellers living in Britain today. The recipient of seven prestigious industry awards alongside an honorary PhD and Freedom of the City of London, she believes that when it comes to making jewellery in Britain, the challenges are real, but the future is bright…
I've always been passionate about making my jewellery in the UK. Over 40 years since I started making jewellery after being inspired to become a jeweller by a visit to a jewellery exhibition at the Victoria & Albert Museum when I was just 19, every one of my designs is still 100 percent made in Britain.
It hasn't been easy. When I started out, I waitressed in the evenings. I was a single mother of three children for many years as I built up my business. When I was 41, I met goldsmith David Ward, who I married two years later. To this day, he is the person by my side who makes my complex and creative designs a reality.
With the exceptional goldsmithing skills required, David understands my vision. As a team we constantly push boundaries within design and jewellery making.
My vision for making my own British jewellery emerged early on. While at my second year at college I won my first Diamonds International Award and I remember someone at Goldsmiths Hall telling me my winning necklace design was so untraditional that it was 'impossible to make', I carved the necklace myself and directed manufacturer Roger Garret to help me create it.
I later turned down jobs on Bond Street because I knew my ideas weren't a fit with what they were doing. I'm honoured that I am one of only two people who have ever been awarded three Diamonds International Awards for my work, with the other person being the late Andrew Grima.
I believe that today the potential for truly British made jewellery remains untapped. The main reasons for this are two-fold — a shortage of skills in the UK and the availability of competitively priced jewellery from countries including China, Korea, Vietnam and Thailand.
While Asia was perfecting its capabilities in mass production over the last two decades, we in Britain failed to keep training a generation of high level craftspeople.
My biggest frustration is that the average age of the really great British craftspeople I know, who used to work with jewellery houses and who are highly skilled, is verging on 65, and many already wish to retire. We recently spent five years training an apprentice, but the problem was keeping him — he is now somewhere travelling the world.
We are noticing that some of the large jewellery houses are beginning to come back round to focus on British manufacturing quality. This is perhaps due to the quality.
A retired Bond Street jewellery store manager recently showed my husband David Ward a diamond set gold piece of Chinese-manufactured jewellery from their former store. Customers would repeatedly come back within a month of buying the piece, he confessed, because it would inevitably break. The Chinese factory kept on sending back completely new pieces to replace the broken ones because they couldn't repair it effectively. It's no surprise then that this factory has since gone bankrupt.
A handful of jewellers in the UK continue to make everything on home territory like I do. Take, for example, Knightsbridge-based Matthew Cambery who creates jewellery and spectacular objets d'art for his clients. There are many talented artist craftspeople who design and make all their own work and show annually at Goldsmiths' Hall.
Some of the bespoke jewellery my clients commission me to make is highly elaborate, so I can only work with makers who are masters of their crafts. For example, when one of my clients bought a yacht for £1 billion, he commissioned me to create a bejeweled key, at a price of £50,000. Another client asked me to create a jewel incorporating one of my most beloved gemstones which I had never even planned to sell. To go with it, he commissioned a presentation box, both of which later appeared in an exhibition at Goldsmiths' Hall. My husband David Ward devoted over 400 hours to creating one particular steel bangle and naturally, this was reflected in the price.
Our best clients are increasingly enthusiastic about our British made, bespoke creations, often viewing Britishness as a testament of quality. We have grown mostly via recommendations and word of mouth. Clients come back to me again and again because they appreciate well-made, artistically designed jewellery and a personal service.
We do also have some clients who are very reluctant to mention where they bought a piece, fearing their friends may buy something similar.
I think Brexit is making Britain even more attractive to international buyers. As well as the currency fluctuations working in our favour when it comes to exporting, Britain is seen as somewhat quirky and more artistic, than European makers of jewellery.
Britain's schools and universities have an important role to play. The Goldsmiths Centre's pre-apprenticeship programme is doing a great job in attracting young talent into our industry.
Since I was at college in the 1970s, many UK art courses have closed down which is a shame. When I visited my old college's final show before it closed, I found the work there had become very conceptual and the discipline of making jewellery had almost been lost. We need more apprenticeships and traditional skills taught in our colleges.
The Royal College of Art is particularly well-funded and nurtures some of the world's most glittering talents, while welcoming a significant proportion of international students. But we need to attract talent from all sectors of society, not just the privileged.
I hope that with a combination of the pre-apprenticeship year programme at The Goldsmiths Centre and jewellery houses offering apprenticeships, that we can turn the tide.
News Source: professionaljeweller.com