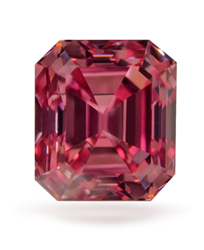 Guildhall Wealth Management currently has more than merely the Festive Season to celebrate. Its Diamond Division "has acquired one of the most incredible pink diamonds from this year's Argyle Diamond Tender", the organisation announced yesterday. "From out of the 63 diamonds offered, Guildhall's bid won Lot #35, a 0.55 Carat Fancy Deep Pink with a clarity of VVS1," the organisation stated. This diamond, part of what was dubbed "The Chroma Collection" has become part of the Guildhall Wealth Management – Diamond Argyle Pink Diamond Collection.
Guildhall Wealth Management said its Diamond Division "specialises in investment-grade natural fancy colour diamonds". Guildhall Wealth Management is a member of the FCRF (Fancy Color Research Foundation), the NCDIA (Natural Color Diamond Association), and has GIA alumni on its staff.
Paul Wiseman, President of Guildhall Wealth Management expressed his delight saying: "This diamond meets all the criteria I look for in an investment-grade pink diamond; strong colour, great cut and near perfect clarity. In fact, it was one of only two fancy deep pink diamonds with a clarity of VVS1. It's a very special stone and I believe it will be a perfect addition to anyone's diamond portfolio."
Jeremy Wiseman, Vice President of Guildhall adds "Over 200 diamantaires from all over the world compete to win just one of 63 incredibly rare gems so we knew we had to be meticulous about our bids. We also knew that if we were going to win a pink diamond from this coveted collection, that we would have to bid at least 30% higher over last year's prices."
"Argyle has been offering approximately 50-60 of their finest pink diamond production at tender each year for the last thirty years," Guildhall Wealth Management said in a press note. "This would total an estimated 1,500 tender diamonds in existence. Rumors of the Argyle mine closing within the next few years continues to keep interest and demand high for these fine gems. According to the Fancy Color Research Foundation, between January 2005 and July 2016 quality pink diamonds have appreciated over 370%. It is consistent growth like this that is attracting savvy investors from around the globe to this alternative store of wealth."
Pic Cap:
The 0.55 Carat VVS1 Fancy Deep Pink has become a part of the Guildhall Wealth Management – Diamond Argyle Collection.
News Source : gjepc.org