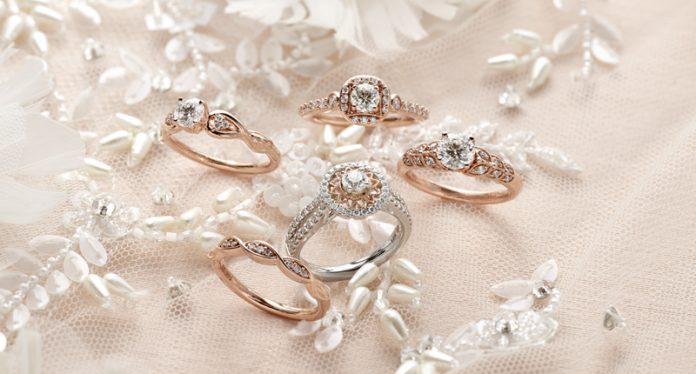 I didn't think to take the initiative that The Hollywood Reporter did this week: Do a search on the Helzberg Diamonds website to see if it was still selling the new line of bridal jewelry from Marchesa, the fashion label co-founded by Georgina Chapman.
I didn't see a need to; after all, even though news broke that her husband, Hollywood producer Harvey Weinstein, has been acting like a disgusting pig for decades, that's not Chapman's fault.
And she announced almost immediately that she was leaving him and spoke out in support of the victims. And, besides, how many people would really connect the two anyway?
So I was surprised–though I have no idea why anything surprises me anymore–when Cheryl Kremkow, a longtime colleague, tweeted this on Wednesday: "More fallout from the Weinstein scandal: @Helzberg quietly drops new Marquesa [sic] Radiant Star engagement collection," with a link to the THR story.
We followed up with our own story on Wednesday, which has already shot to the top of the most-read list on our website and generated some debate over Helzberg's decision that is not unlike the larger debate going on about the Marchesa brand as a whole.
There are numerous reports about how Weinstein wielded his influence to help build Marchesa (when he wasn't busy grabbing, he reportedly was goading actresses into wearing his wife's designs) so, some argue, Helzberg's decision is more about distancing itself from anything Weinstein touched than it is about punishing his wife.
Others might argue that Helzberg just wanted to extricate its name from the whole mess entirely and made the right business decision in doing so.
But, in the end, what Weinstein did is not Chapman's fault, and it's not fair for the brand she built with Marchesa co-founder Keren Craig to suffer on account of Weinstein's actions (though she certainly isn't the first woman in history to endure professional fallout due to her husband's personal decisions).
One of the readers who remarked on the story, Antoinette Matlins, made a number of comments that are particularly poignant and worth reading. Among them, she noted that at the end of the day, we really have no idea what went on behind closed doors between Chapman and Weinstein–what their day-to-day life was like, what she knew and/or chose to believe, and what kind of power he held over her.
"By dropping her line, she becomes all the more a victim, one that must also now worry not only about her personal life, but about how she will be able to move forward in her professional life," Matlins wrote, and she's right.
Another reader, Jay, quoted country singer Charlie Rich's 1973 song that goes, "We never know what goes on behind closed doors."
For me, the situation reminds me of a different song, "Ten Thousand Words" by The Avett Brothers: "Ain't it like most people?/I'm no different/We love to talk on things we don't know about."
**************
I think a second point to be made here certainly will not ignite the same kind of emotions as the above discussion (hopefully) will, but it's still a very valid point and worth mentioning: Would that many consumers really have made the connection between Marchesa/Chapman and Weinstein if Helzberg had quietly kept the line instead of quietly dropping it?
While I would not consider myself to be a pop culture junkie, I feel like I'm pretty up on what goes on in Hollywood–I like going to the movies and watch my fair share of shows on Hulu and Netflix and, just by nature of my job, I'm online constantly so I absorb a lot of information, some of it more useful than others.
Yet I had no idea that the woman behind Marchesa has been married to Weinstein for the past decade, and I would bet that a lot of other people didn't know that either. (Side note: If you Google "Georgina Chapman," three of the results on the first page are all along the lines of "Who is Georgina Chapman?")
But now they do. And now they know Helzberg Diamonds as a company that dropped her brand in the wake of the Weinstein scandal. For a lot of women, that sends the wrong message.
News Source : nationaljeweler.com