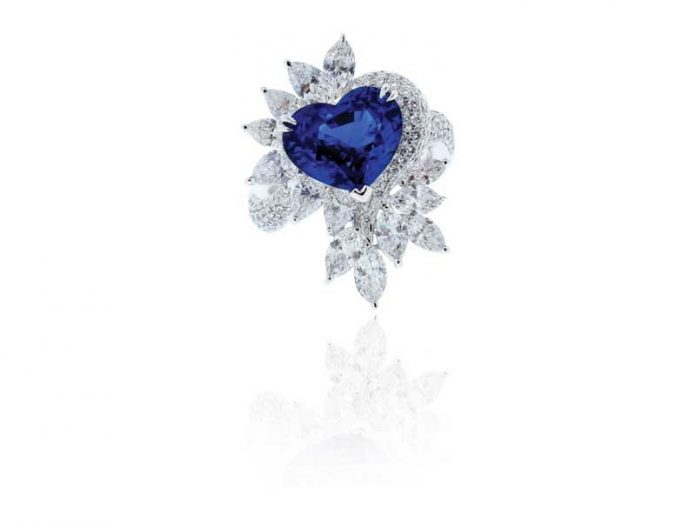 The tree of life brooch in 18 karat gold embellieshed with emeralds and white yellow diamonds by Belford Jewellery
Heart-shaped and pear shaped diamond ring in 18 karat gold by Belford Jewellery
Diamond bangle in 18 karat gold by Belfod Jewellery
Belford Jewellery of Hong Kong is at the forefront of designing and producing jewellery pieces that celebrate the enigmatic beauty of diamonds.
Established in 1977, the company traces its roots to the creative pursuits of art enthusiasts Leung Kwok Ching and her brother-in-law, Benson Wong. What started out as a hobby of designing jewellery for friends eventually evolved into one of Hong Kong's most influential jewellery manufacturers today.
Wong's innate artistic talent was perhaps the major building block of the company. A fashion designer by training, he first gained exposure to the jewellery industry by spending time at his brother's diamond wholesale company. It was here that his fascination for diamonds and coloured gemstones, and creating one-of-a-kind jewellery pieces, started to take shape.
According to the company, Belford Jewellery was founded at a time when Hong Kong was reinventing itself and diversifying into a financial hub from a manufacturing centre. This cultural and economic transformation likewise ushered the birth of Hong Kong's luxury jewellery sector.
In an interview, Wong, director of Belford Jewellery, talks about the company's competitive advantages and growth strategies.
Design and production expertise
Since its inception, the company has been manufacturing fine jewellery pieces adorned with high-quality diamonds in exceptional designs. According to Wong, Belford Jewellery has made a name for itself in the global luxury jewellery sector over the years.
The jeweller has built a strong customer base in Europe, the US, Middle East and Asia, particularly Taiwan and Hong Kong. It is also planning to expand its foothold in these existing markets.
News Source : jewellerynewsasia.com